Innovative and easy to use 3CX Phone System sees 3CX make the annual list again.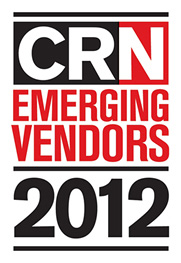 Duluth, GA, August 28 2012 – 3CX, international telecommunications developer of Windows-based PBX software, today announced it has been selected by UBM Channel and CRN as a 2012 Emerging Technology Vendor. The annual list features the most innovative vendors who not only deliver technology that is easy to use, but can generate the high margins solution providers require.
Among these Emerging Technology Vendors are companies that have already established themselves in their market segment and others that are already making an impact despite a recent launch.  Each organization on the list represents a new partnership and a go-to-market opportunity for solution providers looking to identify new vendor partners.
3CX Phone System for Windows is a high-value, low-cost VoIP IP PBX that's software-based and provides unified communications out of the box. It drew praise for being easy to manage and because it works with any SIP IP phones and runs on a standard Windows system. Being software based means it is far less expensive to purchase and expand compared to traditional hardware proprietary phone systems. Costs are also saved as being an IP-based PBX means that there's no need for separate wiring as all phones use the existing computer network. Additionally, 3CX Phone System increases mobility of employees as it works hand in hand with 3CXPhone for Android and iPhone – complete desktop phone replacements that allow users to take their extension with them wherever they go.
The 3CX Channel Program gives a great opportunity for resellers to leverage their Windows skills and tap into a completely new market, and is open to all IT and telecoms solutions providers. 3CX Partners generate profitable recurring income by reselling 3CX products with their own services to existing customers, whilst also targeting new customers.
Benefits of the 3CX Partner Program include access to free products and technology. Free partner training events are held worldwide each year and direct access to the 3CX Support Team assists 3CX Partners so that they can, in turn, assist their customers.
 "Emerging doesn't mean what it used to," said Kelley Damore, VP, Editorial Director, UBM Channel. "And this collection of up-and-comers and new-to-the-game vendors is on an upward trajectory that a host of young companies that preceded them could barely imagine. With new innovations like cloud computing and virtualization speeding up the pace of innovation, and technology mainstays like storage and networking branching off into new directions, this list encapsulates a tectonic technology shift where the recently founded are starting to rule the roost and become household names much more quickly than in the past. We congratulate each vendor on the list and congratulate them for placing an emphasis on innovation and ease of use, features that are the hallmark of any successful channel offering."
Final selection to the Emerging Technology Vendor list was made by the CRN editorial team after a review of submitted information. To view a sample of the list and read the editorial accompaniment visit www.CRN.com.
"We are proud to have been recognized as a CRN Emerging Technology Vendor for the second consecutive year. 3CX Phone System continues to set the bar for software based PBX's and is fast replacing traditional hardware PBXs as the go-to solution," said Nick Galea, 3CX CEO. "Being a 100% channel company, 3CX provides all the tools for partners to be successful when reselling 3CX Phone System and bundling in hardware and their consultancy services."
About 3CX
3CX is the developer of 3CX Phone System – an open standard unified communications platform for Windows that works with standard SIP phones and replaces a proprietary PBX. 3CX is more manageable and can deliver substantial cost savings besides increasing productivity. Leading companies worldwide such as Caterham F1 Team, Boeing, Ohio State University, MIT and RE/MAX use 3CX Phone System. 3CX has been listed as a CRN 2011 and 2012 Emerging Vendor and has earned Windows Server Certification as well as other numerous awards, including The Windowsnetworking.com Gold Award, the Windows IT Pro magazine 2008 Editor's Best Award and a Best Buy Award by Computer Shopper Magazine. 3CX has offices in the UK, USA, Germany, Cyprus, Malta, Australia, South Africa and Hong Kong. For more information, visit: https://www.3cx.com and find us on Facebook at http://www.facebook.com/3CX/.
UBM Channel (www.ubmchannel.com)
UBM Channel is the premier provider of IT channel-focused events, media, research, consulting, and sales and marketing services. With more than 30 years of experience and engagement, UBM Channel has the unmatched channel expertise to execute integrated solutions for technology executives, managing partner recruitment, enablement and go-to-market strategy in order to accelerate technology sales. UBM Channel is a UBM company. To learn more about UBM Channel, visit us at http://www.ubmchannel.com. Follow us on Twitter at http://twitter.com/ubmchannel.
UBM plc (www.ubm.com)
UBM plc is a leading global business media company. We inform markets and bring the world's buyers and sellers together at events, online, in print and provide them with the information they need to do business successfully. We focus on serving professional commercial communities, from doctors to game developers, from journalists to jewellery traders, from farmers to pharmacists around the world. Our 6,000 staff in more than 30 countries are organised into specialist teams that serve these communities, helping them to do business and their markets to work effectively and efficiently.