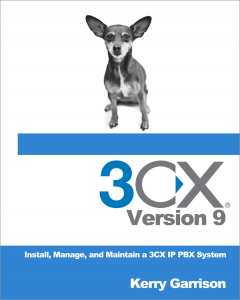 In addition to the free upcoming 3CX partner training events in the US, UK, and the Netherlands, all attendees will also receive a complimentary copy of Kerry Garrison's book, 3CX Version 9.
Kerry's book covers the 3CX Phone System in its entirety; comprehensively yet simply detailing topics from the installation, configuration, to troubleshooting, as well as providing tried and trusted tips on how to sell the 3CX Phone System onto your customers.
The book has a value of $35 and we are giving it to all partners attending the 3CX training sessions, therefore ensuring that everyone has all the necessary tools and knowledge to make their 3CX deployments successful.
To learn more about Kerry's 3CX Book, please visit http://www.3cxbook.com where you can read a sample chapter on Deployment Planning and order the book if you cannot attend the training.
Kerry has been in the VoIP industry for the past seven years. For two years, Kerry served as the project manager and community director for trixbox CE and is now the VP of Strategy at 888VoipStore. Kerry is also a 3CX Certified Professional and will be on hand as one of the speakers in the upcoming 3CX training sessions in Houston, TX (21st and 22nd February 2011) and Reston, VA (24th and 25th February 2011) sharing his experience on how to become more successful at selling 3CX systems.
If you haven't yet booked your seat at one of the 3CX Training Sessions, you can do so by clicking one of the links below.
We look forward to seeing you soon!
US Training Sessions
Basic Training – Monday, 21st February 2011 – Houston, Texas
Advanced Training – Tuesday, 22nd February 2011 – Houston, Texas
Basic Training – Thursday, 24th February 2011 – Reston, Virginia
Advanced Training – Friday, 25th February 2011 – Reston, Virginia
---
Benelux Training Sessions
Basic Training – Monday, 7th March 2011 – Amsterdam, The Netherlands
Advanced Training – Tuesday, 8th March 2011 – Amsterdam, The Netherlands
Basic Training – Wednesday, 9th March 2011 – Amsterdam, The Netherlands
Advanced Training – Thursday, 10th March 2011 – Amsterdam, The Netherlands
---
UK Training Sessions
Basic Training – Monday, 14th March 2011 – Kingston upon Thames
Advanced Training – Tuesday, 15th March 2011 – Kingston upon Thames
Basic Training – Thursday, 17th March 2011 – Kingston upon Thames
Advanced Training – Friday, 18th March 2011 – Kingston upon Thames