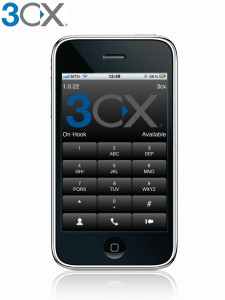 Standards based SIP softphone allows iPhone, iPad and iPod Touch users to make calls via Wifi and 3G
London, January 26 – 3CX, developer of the popular Windows softphone 3CXPhone and VoIP PBX 3CX Phone System, has expanded its mobile offerings with the launch of an iPhone-compatible version of its Windows-based softphone. The 3CXphone for iPhone app allows the user to make FREE VoIP calls via WiFi or 3G.
The difference between the 3CXPhone for iPhone and other "free" SIP phones for iPhones is that this app isn't locked into a particular provider or PBX. You are given the freedom of selection, meaning that you can pick and choose your favorite provider or VoIP PBX and switch at any time or use different VoIP providers.
"3CX turns the iPhone into a perfect endpoint for a VoIP PBX," said Nick Galea, CEO, 3CX. "When out of the office, using 3CXPhone for iPhone, users can take calls to their extension via Wifi or 3G. When in the office, 3CXPhone for iPhone turns the iPhone into a convenient and user-friendly wireless desk phone."
Free of charge
3CXPhone for iPhone is available free of charge for commercial and nonprofit organizations as well as private users. Using the iPhone existing contact list, the app allows you to find your contacts efficiently as well as permitting the use of multiple profiles. 3CXPhone for iPhone has a toggle which allows you to switch between an internal and external PBX server and is the only free VoIP client that can perform unattended transfers.
"Since downloading the 3CX iPhone app, life within the office as well as when I am on the go, has become ever so efficient. This great app allows me to take my desk phone with me, which is so helpful. The fact that it's free is also another great plus." – Claire Hodgson, Managing Director, Franklin West, NY
Features include:
Fully supports the industry leading SIP standard
G711 and GSM codec support
Ability to transfer (blind transfer) and place calls on hold
Internal and external server configuration in one profile
Record and playback phone calls
Profile Names, Caller ID, Proxy Server, STUN and NAT support
Auto provisioning – SIP PBX's or VoIP providers can automatically provision the 3CXPhone for iPhone app via multicast
iOS 4.x (iPhone 3, 3Gs and 4, iTouch 3 & 4)
3CXPhone for iPhone can be downloaded via the iTunes Store. The 3CX community supports the iPhone app and the forum can be found here. 3CX Phone System users and partners can get support via their support portal account.
About 3CX
3CX is the developer of 3CX Phone System – an open standard unified communications platform for Windows that works with standard SIP phones and replaces a proprietary PBX. 3CX is more manageable and can deliver substantial cost savings besides increasing productivity. 3CX Phone System has earned numerous awards; Windows Server Certification, Windowsnetworking.com Gold Award, Windows IT Pro magazine 2008 and a Best Buy Award by Computer Shopper Magazine. For more information, visit https://www.3cx.com