Version 12 SP3 is no longer available for download. To download the updated version click here.
We've made great strides with 3CX Phone System 12, continually setting new standards within the PBX industry by providing key mobility and Unified Communications features. Following up from valuable feedback we've received from our customers, distributors and partners, we've worked around the clock to deliver Service Pack 3 for 3CX Phone System 12, which provides great productivity gains.
Service Pack 3 includes numerous server and client features all aimed at providing a complete set of features for both 3CX administrators and end-users. Administrators can now elevate selected users to Group Managers, VoIP Trunk Admins or System Administrators. Another important feature is the ability to bulk import DID/DDIs from a csv file.
We've worked hard on improving the 3CXPhone clients for Mac and Windows, making them larger so that it's easier to access the major functions from the bottom of the client. We've made Call Forwarding more accessible, allowing you to configure your forwarding rules in just a few clicks. The 3CX Team has also added support for Plantronics headsets in 3CXPhone for Windows, allowing users to answer calls via the answer button. Service Pack 3 includes the following features and bug fixes:

New Features
Choice of colors. Besides the current dark grey color scheme, there is also a white color scheme.
3CXPhone is slightly larger, allowing all icons to major functions to be listed at the bottom of the client.
Added the ability to change voicemail greeting messages based on the status you've set.
Call Duration is now displayed in the Call History.
Added support for Plantronics headsets with answer button.
Standard Bluetooth headsets are supported in Windows & Mac (i.e without answer button).
Contacts can now have multiple numbers. Mobile and home numbers have different icons.
Queue Calls forwarded to mobile numbers are seen in the presence Active calls screen of the user.
Added the ability to automatically change your status to 'Away' when there's no computer activity.
Added the ability to launch the 3CXPhone client automatically if numbers on a website are formatted with the 'tel: protocol' URL links.
Chat notifications are updated when a user is not available for chat.
Added chat status at the top of the chat conversation showing the chat status of the user you are chatting with.
Messages sent when you are offline will be delivered when you change your status to 'Available'.
Improved contact searches in the whole application.
Added the ability to add a company / personal phonebook entry from Call History.
Improved Hotkey function. Now simply press hotkey (no need for CTRL + C) and the number will be copied, cleaned from any –, spaces or () and pasted to the 3CXPhone dial pad.
Company phonebook entries can now be added with just the company name, which is useful for business contacts.
Added the option to add an international dialing code to replace + with 00 or 011 for CTI calls.
Added the ability to transfer / divert to someone else's voicemail.
Mapped delete key to delete voicemails and recordings.
Added ability to drag and drop calls to queues
Ability to control whether full screen presence window will be launched or not when application starts depending on whether it is closed on exit or not.
Added G722 support, Speex and iLBC codecs.
Fixes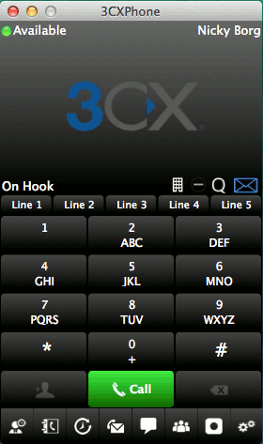 Fixed bug where 3CXPhone was stealing focus on incoming calls.
Fixed audio delivery when 3CXPhone is used over a VPN.
Fixed bug where 3CXPhone looses it's account configuration.
Fixed bug in SRTP – Secure RTP.
Fixed the issue that external participants were not always visible when creating conferences.
Fixed queue calls that are forwarded to agent's mobile phones, they are now visible in active calls.
Fixed the bug that prevented the client from showing remote bridges.
Fixed the bug that showed 3CXPhone as not registered when in CTI mode.
Application layout and startup position are remembered.
When you create a conference you can now choose to contact a contact on one or more numbers simultaneously.
Ability to schedule a conference and invite contacts from your company phonebook. (Those that have an email address configured).
Numerous fixes in chat, sorting of conversations, status, group chat,
Fixed bugs in codecs, outbound proxy, SIP in TCP mode, and audio delivery issues in remote locations.
Barge in, listen and whisper in PRO version perform an auto answer on your phone.
Fixed bug in 3CXPhone connected via Tunnel when out of office.
Change Log/Build History
You can see a complete list of changes by clicking on the following links: 3CXPhone for Windows Change log. 3CXPhone for Mac Change log. 3CX Phone System Change log.
Installing 3CX Phone System 12 Service Pack 3
Access the 3CX Management Console, click on 3CX Service Packs / Updates and download SP3.
Downloads
Download 3CX Phone System Version 12 Service Pack 3.
The 3CXPhone for Windows client is included in the 3CX Phone System 12 installation package and will be updated automatically.
Download the Alpha build of the 3CXPhone client for Mac OS.
Download 3CXCRM update from http://downloads.3cx.com/downloads/3CXPlugins.exe 

Download 3CXPhone for Android and iPhone
Documentation and Links
We welcome your feedback and comments in the 3CX Forums and on our Facebook Page.