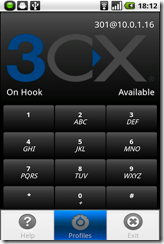 Recognizing the increasing importance of the smartphone as a client to a modern VoIP PBX, 3CX has developed a version if its popular softphone for the Android Platform. Available immediately as a beta, 3CXPhone for Android supports Android 1.5, 1.6, 2.1 and 2.2 on smartphones from Google, HTC (HTC Desire & HTC Elite), Motorola, Samsung, Sony Ericsson and many others .
3CXPhone for Android Sip Phone is available via the Android market place. To install it, open up the market place and search for 3CXPhone. 3CXPhone for Android is FREE of charge and works with 3CX Phone System, Asterisk®* as well as numerous VoIP services.
More information on 3CXPhone for Android can be found here:
https://www.3cx.com/phone-system/android-ios-voip/
3CXPhone for Android is supported only via the Android 3CXPhone user to user support forum.
* Asterisk® is a Registered Trademark of Sangoma Technologies. This trademark is not affiliated with 3CX, its products, or its websites. Sangoma Technologies is not the source of, and does not sponsor or endorse, the products/services promoted here. 3CX is not associated with or sponsored by Sangoma Technologies. All product and company names are trademarks™ or registered® trademarks of their respective holders. Use of them does not imply any affiliation with or endorsement by them.