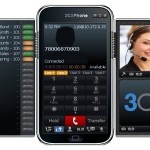 3CX is proud to announce a new version of it's popular VoIP Softphone for Windows – 3CXPhone 5 BETA for Windows. This release is a major improvement with many much requested new features and bug-fixes.  3CXPhone 5 for Windows will remain FREE! You can download the beta of 3CXPhone5 Version 5.14065 here
Key new features that have been added to 3CXPhone 5 are:  Video support, ability to support multiple SIP accounts and BLF. With the BLF feature you can subscribe to particular extensions and see their status. We have also added JABRA support, Plantronics headsets are NOT supported by 3CXPhone! We

Complete list of changes
Added: Multiple SIP accounts
Added: 20 configurable BLFs/speed dials
Added: 5 Line channels (5 sim calls over any account selected)
Added: International language support for IN/OUT bound CallerID, call history and phone-book
Added: AM/PM clock – click to change to 24hr
Added: Automatic Direct SiP call when @ is present in dialed uri
Added: Video improvements and custom FFDSHOW decoder
Added: Shortcut in File/Debug window to access user profile configuration
Added: JABRA headset support
NOTE: Jabra will add the support in their main installation package. For those that do not want to wait for this you can download the zip archive and install manually following the help instructions.
Fixed: Issue in transfers by dialog
Fixed: profile validity checking
Fixed: bug in pop-up notification
Fixed: Keep phone position on multiple monitor displays
Fixed: reconnection problem in 3CX Assistant integration
Fixed: auto-muting microphone sensor to avoid audio interferences in DTMF tone sending
Fixed: FFDSHOW problems when FFDSHOW was pre-installed
Configuration Tips:
To configure Softkeys for BLF and Speed-dials:


Click on an empty Softkey to display the softkey configuration
Enter the UserID for the extension you wish to monitor example 100
Choose the type: Speed dial or BLF/Xfer.
Enter a Label for this Softkey, for example 3CX Engineering Dept, and choose the account that this extension is assigned to.
Click OK. The phone will reload and the Softkey will turn Green if the Extension is registered. Blinking orange means ringing or dialing, whilst solid orange means connected
Configure and using Multiple SIP Accounts: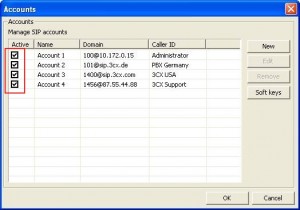 Right click on the main 3CXPhone Screen and click on the Accounts button.
Create new Accounts by clicking on the NEW button. Enter the required information in the Account Settings dialog box
In the above example we have 4 different accounts. Select the accounts you want the 3CXPhone5 to register to by checking the Active check-boxes highlighted in red
Click OK. 3CXPhone5 will restart and register all the active accounts. You will be able to make and receive calls on the same soft-phone to 4 different IP PBX or VoIP Providers
To toggle between different accounts on a line, click on LINE 1 to open a channel.
Click again on LINE 1 to change the account being used for the channel. You will see the connection details change on the top right corner of the 3CXPhone5 main screen display.
Click on Line 1 again to toggle back.