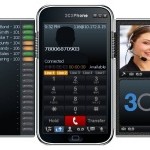 3CX is proud to announce a new version of it's popular VoIP Softphone for Windows – 3CXPhone 5 RC1  for Windows. This release is another major improvement and a possible final candidate with much requested new features and bug-fixes.
You can download the RC1 of 3CXPhone5 build 14439 from here
The change-log can be found here
.
Complete list of changes
Added: Automatic early media detection
Added: Easy editing of blf entries by mouse right click
Added: Insert key allows you to further edit the phone number in 3CXPhone
Added: Easier editing of phone-book contacts by clicking on name fields
Added: Recording in MP3 stereo option
Fixed: Bug in HTTP Provisioning
Fixed: Bug fix in audio sound device detection
Fixed: 3CX Phone reconnects when RTP/SIP ports have changed
Fixed: Bug in expiration timer for BLF to detect lost connection
Fixed: Fixed deadlock in handling video calls
Fixed: Bug in recording when pbx sip port is not default
Quick Tip: Using the Insert key?
Copy and paste a number from a website to the 3CXPhone (Ctrl-C)
Press Insert key
A dialog will open and you will be able to edit the number (outgoing preferred prefix or country code)
Press OK to dial this newly edited number
JABRA USERS
Jabra have agreed to package the 3CXPhone integration in their Jabra installation packages.