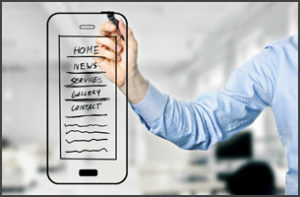 3CX WebMeeting 9.3 has been released and its biggest feature is the reintroduction of the popular online Whiteboard feature. The Whiteboard feature makes web conferences more collaborative and visual by allowing users to present their point visually, by wither drawing on the whiteboard or by writing on it using a text box.
An Online Collaborative Whiteboard
The Whiteboard feature is an ideal tool for brainstorming sessions, business presentations or online classrooms. Some of the features included in the whiteboard are:
Whiteboard tools: Text Tool, Colors, Object Size, Brush Tool, Eraser, Clear Page, Highlighter Tool.

Two templates: Blank Page, Dotted Grid.

Viewing what is being drawn by others in realtime.
Simultaneous drawing by multiple users.
You can start the Whiteboard by clicking on the button shown in the screenshot below in the 3CX WebMeeting UI.

Additional Changes in 3CX WebMeeting 9.3
Feature: Added the Whiteboard Feature with 2 different templates and several basic whiteboard tools to draw with.
Feature: Meeting recordings containing shared PDFs are converted to mp4 and sent to the user much faster.
Feature: The PDF sharing functionality also has a suite of basic drawing tools added to it.
Improvement: Several back-end platform improvements for stability.
Improvement: Back-end security.
Improvement: Support for huge meeting recordings over 2GB.
Improvement: Ability to show or hide the call tools bar on demand.
Improvement: 14 new meeting servers to select from in several new locations worldwide for better quality of service. Locations include: Germany, London, Russia, Italy, Norway, Romania, Los Angeles, Seattle, Sao Paulo, Costa Rica, Mexico, India, Korea and Johannesburg.
Documentation