What Every Business Needs to Know About IP Telephony
Internet Telephony (IP Telephony) is the term commonly used to define the transmission of phone calls over the Internet. This is regardless of whether traditional telephony equipment, computers and/or dedicated terminals take part in the calls and even if the phone calls are totally or partially transmitted over the Internet.
IP Telephony is, without doubt, one of the technological developments that are being rapidly adopted by companies nowadays. One of the main reasons of this quick migration to Internet Telephony is that it makes the integration of all means of communication, communication devices and media much easier. This way users can be in touch with anyone, wherever they are, and in real time. In short, IP Telephony allows for Unified Communications to become part of the business environment, helping companies save money and boost employees' productivity.
IP Telephony's history is in its very early stages. It all started only a few years ago, in 1995, when VocalTec launched their first internet telephone. Before that, IP Telephony was a field that attracted the interest almost exclusively of researchers; but since voice communication over the internet has been proved to be not only possible but commercially viable, many are the companies that have entered the VoIP (voice over internet protocol) Telephony market trying to take the lead.
How Internet Telephony Works
IP Telephony usage set-ups or scenarios are classified by the type of equipment used in making and receiving a phone call. The call can be initiated or terminated either by a PSTN (Public Switched Telephone Network) device or a computer (PC or laptop) on each side of the call; therefore, four different types of set-ups are possible:
1. Computer to Computer
This set-up is common with users who already have internet access and a computer with audio capability (sound card.) In this case a softphone can be used to initiate and terminate the phone calls on both sides. There are many free softphones available in the market. Some examples are X-Lite and 3CX Softphone. 3CX Softphone delivers many advanced features totally free of charge and can be downloaded from https://www.3cx.com/voip/voip-phone/
This pure IP Telephony scenario can benefit from the integration of other internet services such as e-mail and instant messaging.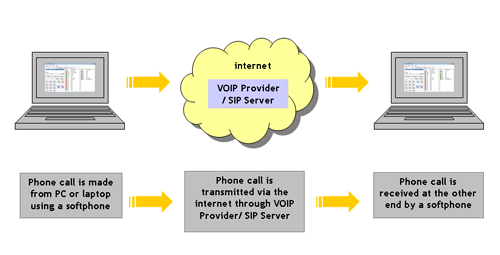 2. PC to Telephone
In this set-up, the computer-callers may also reach the users of traditional (PSTN) telephones. To achieve this, a VoIP gateway is needed to convert the internet call into a PSTN phone call. The closer the gateway is located to the PSTN phone user, the lower the cost of the phone call will be. Examples of VoIP gateways are those manufactured by Patton (http://www.patton.com).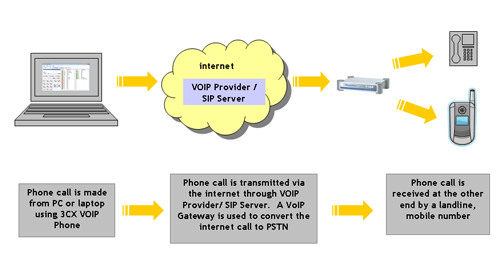 3. Telephone to Telephone
This case applies to traditional telephone users who do not have access or are not interested in using their computers to make and receive phone calls and still want to profit from the savings in telephone call costs achieved by VoIP telephony. This could very well be the case of mobile phone users. In this set-up, the phone call has to go through two gateways: PSTN-to-internet and internet-to-or PSTN.
4. Telephone to Computer
In this set-up, ordinary phone uses can reach VoIP phone users, again by the means of a VoIP gateway operator. It is exactly the reverse case of a computer to telephone phone call scenario.
Components of an IP Telephony system
Equipment/devices: As seen in the above possible IP telephony scenarios, these devices can be traditional telephones (analog/GSM) and/ or computers (PC or notebooks) equipped with a sound card.
VoIP gateways: These are needed if a traditional telephone is used at either end of the phone call.
VoIP/SIP Proxy: The function of a VoIP / SIP proxy or server is to provide centralized call management functions, especially in a business environment. Example: 3CX Phone System for Windows
Sophisticated standards have been created for all these components to communicate among them. The challenge in IP Telephony so far has been to break the proprietary barrier and create phone systems where the components are not tied-in between them.
An IP phone system that makes business sense is the one that allows businesses to have freedom of choice from the vast selection of VoIP phones and VoIP gateways according to the company's budget and needs.
The Benefits and Future of IP Telephony
Despite the fact that internet telephony is a relatively new technology, its reach is growing exponentially, mainly due to the colossal growth of the internet.
While many in the beginning saw VoIP as a technology exclusive for home-adopters, IP Telephony for businesses has already become a reality.
Research shows that sales of IP Telephony equipment are growing at a rate of more than 50% annually and are expected to reach $19.5 billion yearly by 2011.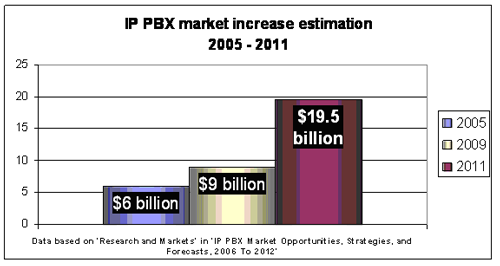 The future success of IP Telephony for businesses depends from the capability of this technology to continue delivering added value to companies in the shape of tangible benefits such as:
Increased mobility
Increased flexibility
Integration of data and voice
Reduction of costs
Conclusion
While telephone system companies strive to develop innovative VoIP phone system solutions that are easy to install, configure, manage and use while ensuring that they deliver mobility, productivity and cost-saving advantages to businesses, there is every reason to believe that IP Telephony is definitely here to stay.