Unsupported Nortel PBX Replaced with 3CX Phone System in Belgian Hotel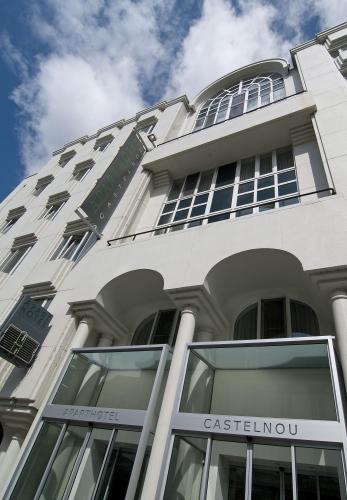 Centrally located in Ghent, Belgium, The Castelnou Aparthotel forms a perfect base in which to explore the historical city up close with all its cultural treasures, allowing visitors to discover what makes the city so special. Ghent is also the ideal starting point to explore other Flemish cities of art; Bruges, Antwerp and Brussels all can be reached in less than half an hour. Castelnou Aparthotel uniquely combines daily hotel services with the provision of the guest's own stylish apartment.
When in Ghent for business for a longer period, their Gent-Zuid and Astrid Park Business Flats provide the solution. A fully furnished apartment with bedroom, bathroom, a comfortable living room with working space, and a fully fitted kitchenette await visitors.
The guests, whether on vacation, from the business sector or the academic world, appreciate the proximity and the easy accessibility of the harbour, the university, the historical city center and the motorways. Castelnou Aparthotel, Gent-Zuid and Astrid Park Business Flats are the ideal bases for anyone who is staying in Ghent.
End of the Line for Outdated and Unsupported Nortel PBX
Up until July 2011, Castelnou had been using a Matra Nortel PBX for their telephony requirements. It had outdated, limited features as well as an expensive maintenance contract. As Avaya announced that they would drop Nortel PBX support, they left Castelnou in a tricky situation as no support meant that it was difficult to expand or modify their set-up. With high communication costs as well as the expenses of leasing phone lines, Castelnou Aparthotel decided it was time for a change.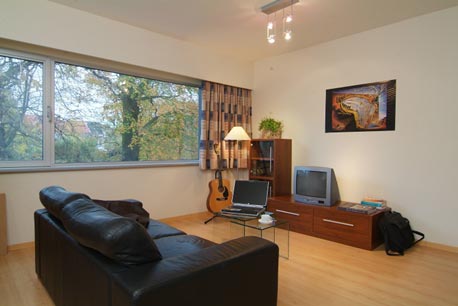 The new phone system would need to be almost the opposite of what they already had in place as it had to be cheaper to maintain and scale. It would also need to offer modern, rich features, such as routing calls via SIP trunks, therefore offering guests international calls at local costs, which would turn the hotel room phone service into a profit center again.
Having already been down the route of being tied in to a vendor with expensive maintenance, using a phone system that provided the same costly model was out of the question. Also, the new phone system would need to fully integrate with the Protel Property Management Software (PMS) that Castelnou were using.
Other requirements were that they needed flexibility – the planned set-up would be quite complicated and many traditional PBXs wouldn't be able to handle it. In fact, Castelnou Aparthotel had been managing their PBX via Telix for DOS over a COM port!
Hotel rollouts are usually difficult to deploy as hotels operate 24 hours a day, 365 days a year. Therefore, not wanting to negatively affect the guests, the new phone system needed to be installed and set-up extremely quickly. It also needed to be user friendly, to allow Castelnou employees to learn the new phone system efficiently.
3CX Phone System & 3CX Hotel Module Check In
3CX Phone System was the perfect choice as it was able to answer all of the hotels requirements. 3CX is competitively priced and supports the open SIP standard, meaning Castelnou would not be locked in with one vendor, as they were previously. 3CX Phone System is software based, therefore there's no need for expensive maintenance contracts or to lease costly phone lines. It's easy to scale and provides an unlimited number of extensions and lines without any extra proprietary modules.
The 3CX Hotel Module provides many features that are important to successfully run a hotel. Castelnou wanted to take advantage of hotel PBX features to further streamline their check-in and check-out process. For example, the 3CX Hotel Module automatically triggers certain events upon check-out, such as deleting remaining voicemails and blocking the extension to avoid unauthorized use.
Guests can set their own wake up calls via their room phones, without involving front desk. Front desk can overview all calls that have been made from any room and have them automatically billed to the guest as the 3CX Hotel Module easily integrates with almost any hotel or billing software. In Castelnou's case, the 3CX Hotel Module was completely integrated with Protel Property Management System.
House-keeping features include being able to set the room status via the room phone itself, which avoids time consuming calls to front desk. The mini bar feature allows hotel staff to input mini bar inventory changes and restocking requests easily, also via the room phone.
Day One – 3CX Configuration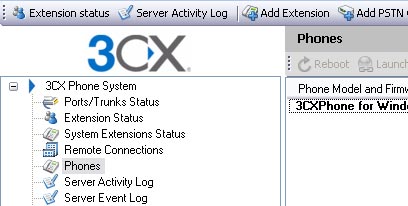 Day one of the 3CX deployment was dedicated to network, routers and 3CX Phone System configuration. 70 extensions were imported in one go and, alongside 10 office phones, were set up with personalized templates. FXS (Foreign Exchange Subscriber) and other gateways were also set up, including temporary ISDN gateways until the phone numbers switch to SIP.
All phones were easily provisioned via the 3CX Management Console, while IVR and Call Group setup was also completed. In fact, phone provisioning with 3CX Phone System is so easy that Castelnou's own staff were able to carry out this task themselves without prior experience. The user-friendly 3CX Management Console gives users full control over the administration of the phone system and most tasks can be carried out in a matter of a few mouse clicks.
Day Two – 3CX Phone System Integration with Protel PMS
By day two, Castelnou had a working phone system. Refinements were made to the ring groups and queues and testing was carried out regarding integration between 3CX Phone System and their Protel PMS as well as testing of the VPN connection between the Main Hotel and the Apartment Building. It was decided to install a new VDSL line into the second building.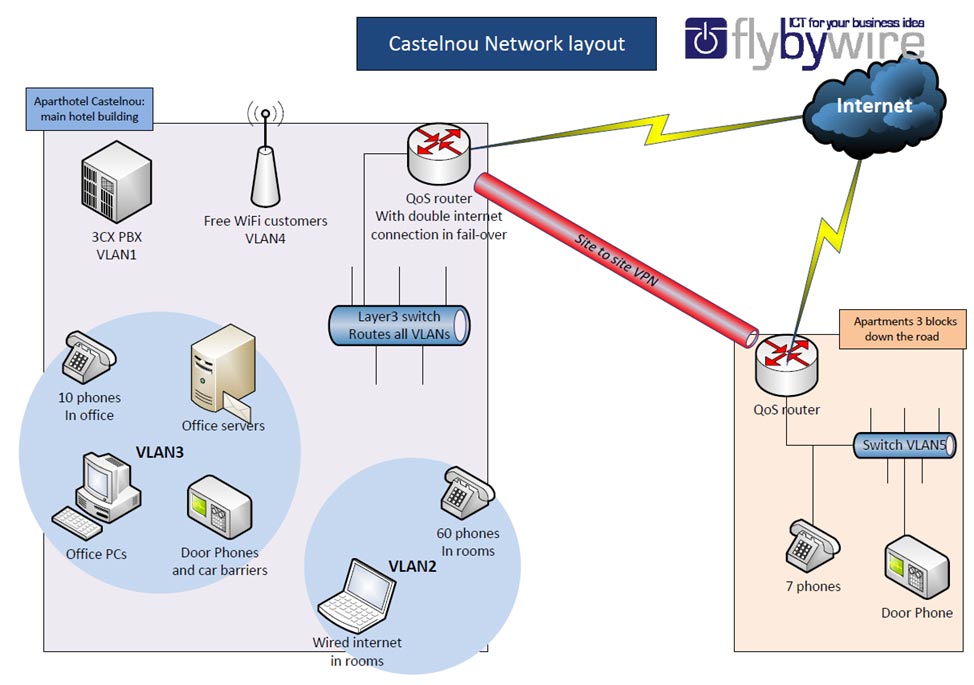 Finally, Connection of a PSTN line for dialing of emergency numbers was carried out.
Day Three – 3CX Analysis and Testing
The third day consisted of analysis and testing as well as some final configurations. Castelnou Aparthotel now uses Yealink T18P phones for the apartments and Yealink T26P phones for the offices, running via a VoIP gateway for 16 lines. Now, Castelnou and Astrid Park are linked together by fiber and also linked to Gent Zuid with the 3CX tunnel. Therefore, the phones in Gent Zuid are now linked to the PMS; a substantial improvement.
The installation by 3CX Partner, Fly by Wire, was fast and efficient. In just over a day, all the phones were up and running. Over the next day and a half, technicians fine-tuned Castelnou's complicated set-up, meaning from start to finish, the entire 3CX Phone System implementation, along with the 3CX Hotel Module, took only three days.
"The speed at which the installation was carried out really surprised me! With our complicated set up, I was concerned that the work would drag on and potentially disturb the guests. That, however, was not the case – 3CX was installed in no time at all and the benefits of using 3CX Phone System and the 3CX Hotel Module were immediate", said Luc Daneels, Managing Director, Castelnou Aparthotel. "3CX Phone System with the 3CX Hotel Module integrates seamlessly with Castelnou's Protel PMS. This project is a perfect example of how 3CX delivered a solution that dove-tailed perfectly with the customer requirements and delivery schedule".
"The integration between 3CX Phone System and Protel worked out of the box thanks to the Fidelio FIAS interface that's included in the 3CX Hotel Module. Because 3CX Phone System is software-based, it's easy to maintain, provide remote support and monitor. New features can be added without requiring complete reinstallation of the server software. We are delighted with 3CX Phone System, as well as the support structure used by this international company." – Diederik Maes, Fly By Wire
75% Telephony Savings Made with 3CX Phone System
Almost immediately after the installation of 3CX Phone System, Castelnou's telephony costs plummeted by a huge 75%! With no need to lease phone lines or pay extravagant fees for maintenance contracts and being software based, running over existing networks, there's no phone wiring required and call costs are significantly reduced. Combined with the fact that 3CX Phone System uses the open SIP standard, users are not tied down to any particular vendor and it works with any open standard IP handset.
Within 2 years, the money saved on maintaining the Nortel PBX, as well as leasing the phone lines will pay for all the new IP phones. A lot of hotels reuse their analog phones using gateways, but Castelnou installed new IP phones, as they add SIP features such as displaying the guests name on the phone, messaging via the screen, phone book provisioning and being able to setup multiple extensions to one handset easily.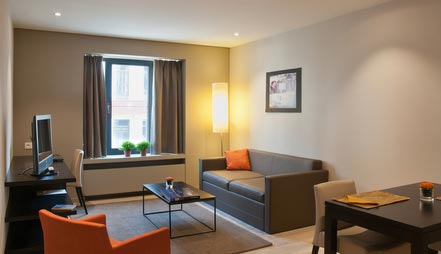 3CX Phone System with the 3CX Hotel Module included a vast array of desired features. The 3CX Hotel Module was developed with hotels specifically in mind and increased the feature set to include being able to display guest names on reception and management phones, and being able to set the status of an apartment via the phone.
Making use of these features, especially Queue Strategies and the Digital Receptionist, employees of Castelnou Aparthotel have seen a great rise in their productivity. Tasks have been made easier thanks to the user-friendly web based interface, 3CX MyPhone, that can be accessed from anywhere in the network. 3CX Phone System also integrates with the Property Management System to maintain guest call logs and costs, saving valuable time during check-out.
Leveraging SIP Trunks to Lower Call Costs for Guests
Castelnou needed a phone system that could bring down their monthly telephone expenditure. With 3CX Phone System and the 3CX Hotel Module, the costs of deployment and TCO were significantly reduced.
Leading VoIP providers can be easily provisioned within the 3CX Management Console, which has allowed Castelnou to route its calls via SIP trunks. The use of SIP trunks has turned Castelnou's phone system into a profit center as guests are offered competitive rates when using their room phones.
"By leveraging SIP via 3CX Phone System, Castelnou Aparthotel has not only made enormous savings, but is now turning over a profit on their hotel room phones. Their guest telephony service is once again a booming profit center. Guests now make international calls via their hotel room phones at local costs, even beating their mobile phone roaming fees!" – Chris Martin, 3CX Hotel Module Project Manager.
"3CX Phone System was a breath of fresh air – not only was it competitively priced but installation was a breeze! The flexibility for easy, low cost future expansion and the feeling of being free from expensive maintenance contracts and no longer being tied in to a particular vendor is second to none." – Luc Daneels.

Fly By Wire is a 3CX Premium Preferred Certified Partner located in Belgium and was established in 2000 by Diederik and Frederic, two enterprise level Microsoft trained IT professionals whose expertise is in VoIP communications.
As most PBX solution providers were too expensive for SMBs, Fly By Wire chose 3CX as its main VoIP IP PBX solutions provider because 3CX Phone System is software based, scales far easier than other PBX solutions, is fully integrated with Microsoft solutions such as Outlook and Microsoft Dynamics CRM, as well as being easy to manage.
With three years' experience working with 3CX and developing a hardware solution around it, Fly By Wire has built up a comprehensive portfolio of small to large companies that use 3CX Phone System. Meanwhile, Fly By Wire also acts as a national contact for an increasing number of 3CX resellers who require assistance.
You can also read the Press Release about Castelnou Aparthotel deploying 3CX Phone System here.