3CX Refreshes Communications at Azerbaijani Shirin Su
Baku, Azerbaijan-based Shirin Su is one of the nation's leading bottled water manufacturers. The company provides the high-quality mineral water from the country's mountain region to both corporate and private customers across the country.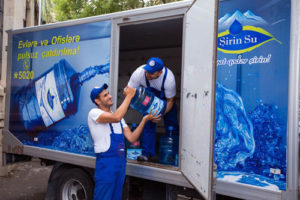 With 37 employees, the five-year old company has seen increasing demand for its product. But managing increased order flow has been a challenge, as Shirin Su depended on a legacy analog Panasonic PBX.  The company's call center was struggling to handle calling traffic, and telco expenses were rising fast.
Shirin Su Director Elshad Aliyev wanted to step up to an IP-PBX, one which would cut calling costs, bridge remote offices and provides.
Aliyev looked at systems from Grandstream and Asterisk®*, but he chose 3CX PRO Edition for its high-quality.
"3CX PRO Edition has enabled us to achieve all of our goals, and has provided great value," Aliyev commented.
Invigorating Installation
3CX PRO Edition installed and deployed in a matter of hours, with the help of Baku-based 3CX Partner iTech Group.
"We appreciated iTech Group's fine service and high level of technical knowledge," Aliyev said.
Because 3CX runs on mainstream operating systems, it integrates rapidly with the company's existing hardware and software, and IT staff needed no special training to get it up and running.
The company's 7 Htek IP Phones were provisioned automatically, and 3CX quickly took control of its five lines and Yeaster VoIP gateway.
Energized Communications
3CX Pro Edition immediately halved Shirin Su's telco costs.
The system rapidly bridged all the company's offices so that communications among them became simple and cost-free. Workers gained complete mobility, able to communicate at no cost when out of the office with 3CX's smartphone and softphone clients.
IP Telephony made a large percentage of VoIP calls free, and those that had to join the PSTN did so at the lowest possible cost with least-cost routing.
The 3CX Contact Center took over management of the company's calling traffic. This meant that waiting time on calls was drastically reduced, as calls were automatically routed to the first available agent.
Monitoring agent productivity also became easy, thanks to real-time monitoring of agent activity with the 3CX Wallboard. With 3CX, managers can also listen in on calls and intervene in them when an agent needs help — this provides increased agent training.
The 3CX Switchboard provided increased efficiency, enabling agents to see presence, and to transfer calls with a simple drag-and-drop.  
"Altogether, 3CX has given our call center an important productivity boost, and has radically simplified our communications," Aliyev said.
* Asterisk® is a Registered Trademark of Sangoma Technologies. This trademark is not affiliated with 3CX, its products, or its websites. Sangoma Technologies is not the source of, and does not sponsor or endorse, the products/services promoted here. 3CX is not associated with or sponsored by Sangoma Technologies. All product and company names are trademarks™ or registered® trademarks of their respective holders. Use of them does not imply any affiliation with or endorsement by them.