Main Military Clinical Hospital in Moscow Discharges Old PBX, Enlists 3CX Phone System
The teacher at his local school thought five year-old Nikolay Nilovich (NN) Burdenko was too small to attend classes, and he sent the little boy home, only to find him waiting at the door to the classroom every day thereafter. The director of the school finally relented and admitted Burdenko, who eventually became a distinguished military surgeon and the founder of the Soviet Medical Academy. He is considered the father of Russian neurosurgery, and the main military clinical hospital in Moscow now bears his name.
One of the country's largest military clinics, the prestigious Main Military Clinical Hospital Burdenko is a powerful, multi-functional facility comprising 96 medical offices and diagnostic laboratories and seven major specialty centers. Each year, more than 20,000 patients visit the Main Military Clinical Hospital Burdenko. The hospital's surgeons perform thousands of operations annually.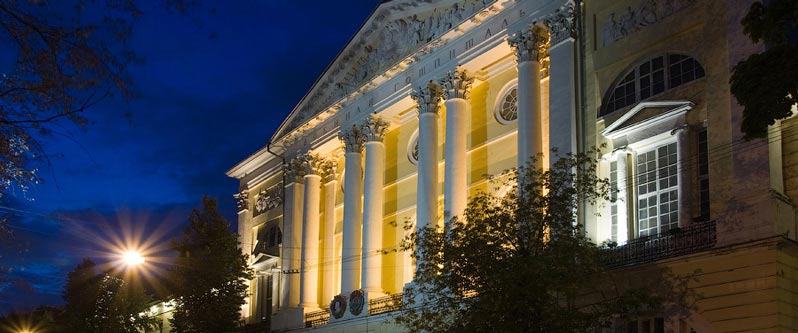 The Need for a Stronger Nerve Center
As the first decade of the 21st century came to a close, the Main Military Clinical Hospital Burdenko's previous telecommunications infrastructure, its central nervous system, was ailing. Hospital staff found the facility's "old and traditional" PBX outdated and inefficient. The IT department wanted to find a better spine for the hospital's telecommunications, one that could handle up to 6,000 calls per month, reduce its overall telephony costs and enable hospital employees to make conference calls.
Burdenko was appointed head surgeon of the Soviet Army at the outset of World War Two, when he was 65. Prior to the War a number of new medicines had been discovered, including streptocide, sulfidine and penicillin, and Burdenko took these new drugs directly to the front line, where they saved the lives of thousands of soldiers. The Main Military Clinical Hospital Burdenko continues to honor Burdenko, who kept abreast of new medicines and medical technologies throughout his lifetime, by remaining at the forefront of medical research and treatment. Given the hospital's esteemed history and reputation, the IT Department decided to invest in a phone system as advanced as the care the institution provides to its thousands of patients. This meant switching to a top-of-the-line VoIP PBX.
Meeting the Challenges at the Telecommunications Frontline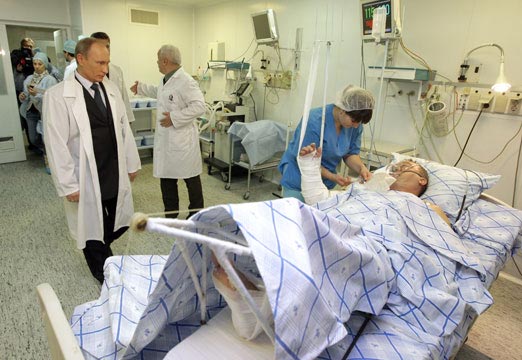 With more than 2,000 employees across 10 departments and more than 100 diagnostic laboratories and offices, the Main Military Clinical Hospital Burdenko needed a robust VoIP telecommunications nerve center, a scalable, flexible phone system that was easy to install and with an interface the hospital IT department could manage from a central location or brainstem. The hospital wanted to give its staff a plethora of call center features in addition to conference calling, including call pickup, call forwarding, queues, group ringing, hunt groups, presence, auto attendant, inbound and outbound call routing, a softphone option and call logging and reporting. The new PBX also had to enable day-to-day telephony tasks such as the addition of new extensions, staff relocations, routing rules and voicemail, so the hospital wouldn't have to pay expensive call out fees to a PBX specialist. It had to be rich with features, but at the right price, and it had to work with Windows, as there are no Linux engineers on the hospital staff.
In 2010 the Main Military Clinical Hospital Burdenko IT department began investigating new phone systems. After examining Avaya and Cisco, the hospital's IT expert decided 3CX Phone System best suited their needs, as it was as feature-rich as these competing PBX's but at a far better price – the proximity of the 3CX office in Moscow to the hospital was also a contributing factor. Thus, in September 2010, the IT Department installed 3CX Phone System on its HP server. Installation was fast and simple, and 3CX Phone System was stable and operational within an hour.
Transmitted and Received
Today, 3CX Phone System is managing the Main Military Clinical Hospital Burdenko's massive daily call volume with surgical precision. The hospital now uses 20 lines and 12 call center agents. Hospital staff members have found they are far more productive, thanks to 3CX Phone System features such as call switching, routing, queuing and, finally, conference calling. The installation of 3CX Phone System means Unified Communications is now part of the brain stem of the hospital's telecommunications system – much in the way neurotransmitters carry nerve impulses across synapses to a muscle or a gland, 3CX Phone System delivers voicemails via email and provides the Main Military Clinical Hospital Burdenko team with other crucial information, including user presence.
Military Efficiency, Surgical Precision
The hospital's IT Department is also thrilled with 3CX Phone System. The PBX's Web-based configuration and status indication makes phone system management easy, and its scalability means the IT Department can add unlimited extensions and phone lines without having to invest in proprietary expansion modules. Finally, thanks to 3CX Phone System, the Main Military Clinical Hospital Burdenko's overall telephony costs have been reduced significantly.
We didn't doubt 3CX Phone System would afford our facility innumerable benefits. After examining all of the options available on the market, our department unanimously decided 3CX Phone System is the most reliable platform available, and that it can handle the daily influx of calls we receive at the hospital. It was fast and easy to install, seamless, and we've had no service interruptions! Going forward, our department plans to equip numerous other departments with IP phones. We can depend on the quality and stability of 3CX Phone System. – Sobakin Sergey Leonidovish, Head of IT Main Military Clinical Hospital Burdenko, Moscow
Like the namesake of Main Military Clinical Hospital Burdenko, 3CX Phone System never gives up. Want to see all of your organization's telecommunications neurons firing at full blast? Get started with the free edition of 3CX Phone System today.