Outdated PBX Replaced with Modern, Feature-Rich 3CX Phone System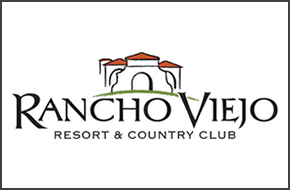 Rancho Viejo Resort & Country Club is a resort destination in Cameron County deep in southeast Texas. Occupying 1,400 acres in the Lower Rio Grande Valley at the southernmost point in the mainland United States, Rancho Viejo is near South Padre Island. The resort provides its guests, both area residents and visitors, with golf on its two par 70 18-hole championship courses, fitness and wellness programs, tennis, a swimming pool and fine dining, as well as conference and event facilities for conferences, weddings and parties.
Rancho Viejo, which dates back to the Espiritu Santo Land Grant of 1771, had at one time been the jewel among the resorts of South Texas. As time passed, however, economic fluctuations and Hurricane Dolly, in 2008, took their toll on the property and its lovely buildings. Rancho Viejo fell into a state of disrepair and was put up for sale. Its new owners have restored the luster of its Spanish and Mexican heritage, and today its red-tiled roofs rise among the fountains and public gardens that grace the property.
PBX Challenge
As part of their commitment to return Rancho Viejo to the condition it had been in when it was a sparkling South Texas destination, the new owners took on the tremendous task of upgrading or replacing much of the resort's infrastructure, including its phone system. Rancho Viejo was using a Mitel SX2000 system, which its new owners inherited as part of the sale. The Mitel PBX wasn't in keeping with the new, fresh approach the owners of Rancho Viejo were looking for as it was an outdated phone system that needed serious repairs. Some of its line cards were no longer functional and the interface to the RoomMaster Property Management System (PMS) was inoperable. Also, as a guest property, Rancho Viejo needed voicemail, maid status reporting and detailed call reporting, which the Mitel system didn't offer. Maintaining the phone system was a challenge, on account of its age and the hardware it required, which was often unavailable.
To add to the problem, the resort is spread over a relatively large area. The buildings were inter-connected via underground cabling which had deteriorated to the point that reliable communications had become untenable and would have been far too expensive to replace. The previous owners had brought in DSL connections from the local PSTN company to keep things operational. Alongside the PRI circuit they were using, the phone bill came in at over $2,300.00 per month.
Out with the Old, In with the New
Stage one was to come up with an alternative to the impossible task of replacing the cables. Orbit Broadband was brought on board to setup a solution to use wireless direct micro-link radios which allowed Rancho Viejo to transport data throughout the property over a private network and integrate it with their existing wired data network.
Enter 3CX Phone System – not requiring any additional wiring, it was a perfect fit. 3CX Partner, N2 Tech Solution, installed 3CX Phone System and configured it for use with analog terminal adapters, IP phones and even battery back-ups. Conforming to the SIP standard, 3CX was flexible enough so that all facilities were interconnected for seamless communications with any extension on the property while at the same time they were able to extend their data needs for Point-of-Sale and internet access for the guests utilising Orbit Broadband's internet signal.
With the new set-up and by using a SIP provider, the $2,300 monthly bill has plummeted by a huge 90% to an average of less than $200.
Dedicated Hotel PBX Features with the 3CX Hotel Module
The 3CX Hotel Module has been integrated with the RoomMaster PMS.  All hotel functions are now done via an easy web interface which is accessible anywhere in the hotel network. There's no need for duplicative entry for check-in and checkout. In addition the 3CX Hotel Module automatically triggers certain events upon check-out, such as deleting remaining voicemails, printing log of calls made during the guest's stay and blocking an extension to avoid unauthorized use.
Rancho Viejo kept their analog phones in their hotel rooms, allowing them to save on new equipment. Since the 3CX Hotel Module can be used with analog phones this was a huge benefit for them, and a huge saving.
Guests can set their own wake up calls via their room phones without involving the front desk, and the hotel can provide voice mail directly to a guest rather than having to take messages. International calls that have been made from any room are automatically billed to the guest.
Unlike previously, the new setup means staff can communicate between departments without having to meet face to face, and staff productivity has risen as a result. Staff is also able to go mobile – they use cordless sets when outside assisting guests. Rancho Viejo can also have multi-line phones where needed – should personnel change offices, they simply take their extension with them without the need for complicated administration and programming. Even the room status can be set via phone, so the maids don't have to keep going to housekeeping and informing them whether the room is ready or not. With a few clicks they update the status and continue with their work.
Customer satisfaction levels at Rancho Viejo have also seen a boost as guest names are displayed on the reception, room service and management phones whenever a guest calls. Staff can now answer the phone and announce the guest's name. By doing so their customers feel that they are valuable and their experience becomes more memorable.
The entire Rancho Viejo operation runs on Windows, so there was no need to invest in additional hardware in order to install 3CX Phone System and employees already know how to operate it, unlike with traditional hardware PBXs. Hiring outside contractors would be problematic and expensive for Rancho Viejo, but being as 3CX Phone System is so easy to use, this isn't a concern. Should any hardware fail, it is easy and quick to replace with minimal downtime which isn't always the case with other solutions.
3CX – "The Phone System Our Business Needs"
3CX Phone System is a sparkling addition to the luxurious Rancho Viejo,giving them 90% savings on their telephony bills each month while increasing staff productivity and mobility.
Xavier Montemayor,  President of Rancho Viejo Resort & Country Club:
"3CX Phone System is a winner for us. It had the flexibility to work in our environment and the capability to provide us with the features that we needed to run the property efficiently. 3CX was able to do this while at the same time being the least costly of the systems we examined and it was able to lower our monthly recurring phone bills substantially."

Larry Neblett, Owner N2 Tech Solution LLC:
"3CX Phone System has really proven itself given the obstacles we were presented with during the Rancho Viejo roll out. It was a challenging yet fun installation as it really showed the versatility of the product to meet a variety of needs using various technologies. Since the initial install, we have added even more phones to include wireless conference room phones."