How Rigensis Bank Stays Ahead with 3CX Phone System
Rigensis Bank is a leading private and business bank based in Riga, Latvia. Latvia is becoming a force to be reckoned with within the financial industry, in fact the city of Riga has long been a trading centre from as far back as the 12th century, the Livonian Chronicle of Henry refers to it as portus antiquus (ancient port). Following the Latvian tradition of international trade Rigensis bank has one main goal – to cooperate and promote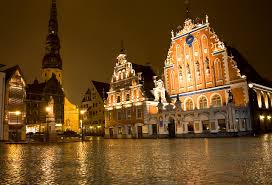 prosperity for individuals and companies by helping their customers fulfill their need for high-quality financial services.
Why is Customer Service so Important in Banks?
Unlike most industries, who fear their customers may change provider at any time, banks don't feel this so intensely as customers will think twice before changing the bank with which they cooperate. According to Forbes , though, banks should also make the effort to make every customer experience special and unique. Offering superior customer service makes customers more loyal but it also results in better financial results for the bank itself. The more customers enjoy their experience with the bank the more likely it is for them to consult bank employees about other issues they may have. As a result, the bank sells more services to their customers and the customers actually enjoy buying.
Rigensis bank recognised the need to have happy and loyal customers and sought out to find a PBX that would enable them to offer their customers the service that would be their differentiator and give them a competitive advantage. At Rigensis Bank customers play a vital role in everything they do and their customers' needs and satisfactions are the bank's utmost priority.
Modern Bank – Modern Phone System
They needed to find a phone system that would satisfy their need to keep their customers happy as well as it being modern, flexible, fully integratable with their business processes, cost effective and could easily be administered internally. Rigensis needed a phone system that would have advanced call centre features, allowing them to identify the customer automatically and thus improve customer service as well as make call handling more efficient.
They initially looked at a basic telecommunication service, where they would lease the PBX on an annual basis. This solution did not satisfy the bank's needs for a modern and flexible telephone system as it neither integrated with their business processes nor was it easy to maintain.
They also looked at some other phone systems; Cisco Call Manager, Avaya and Asterisk®* but were not satisfied with what they had to offer either. Cisco Call Manager is too proprietary and expensive for what it offered. Asterisk® is Linux based making it difficult for Rigensis to maintain and manage as its existing infrastructure is based on Windows and it would require Linux training. Furthermore they had concern in regards to commercial support available for the open source software. Avaya was again too expensive, in particular the advanced call centre features added significantly to the initial price. In order to administer the Avaya system Rigensis IT staff had to be trained which was both expensive and time consuming.
Wanted: A Flexible PBX to Satisfy All Needs
The light at the end of the tunnel for Rigensis bank started appearing when they received an offer from 3CX Partner Velkoms SIA. The offer ticked all the right boxes. 3CX Phone System was easy to use and manage as it was Windows-based, flexible and could therefore be managed internally. It was also very cost effective.
Bring in the Phone System Architects
The installation took place shortly after and included 45 IP Phones and a 30 line SIP trunk. 3CX Phone System was installed on a 4GB+ HDD, Windows 2008 r2 Server. The deployment was seamless, finished in record time and didn't affect the day to day operations of the bank . The bank was amazed by how easy it was to deploy and couldn't wait to start using 3CX Phone System for Windows.
3CX Phone System – Delivering its Promise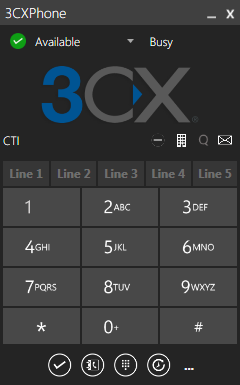 3CX Phone System has performed formidably since its installation and can easily handle the 10,000 + outgoing and incoming calls the bank has a month. It has proven to be extremely easy to use and manage even more so because it is Windows based and the bank has competent staff to maintain Microsoft software and all end-users have enough Windows experience. The system parameters are easily accessible and understandable, the system behaviour is stable and expectable when configuring the features.
Rigensis Bank also uses 3CXPhone for Windows which has significantly increased staff productivity. Staff members can see the presence of their colleagues and know whether they are available or not as well as easily set up conference calls and manage their voicemail. They can easily transfer and hold calls from their desktop and personal and company phonebooks are integrated saving time when searching for a contact.
With 3CX Phone System's call recognition agents save time asking customer's numerous questions before being able to help them. On the other hand, customers are happy as they don't have to keep stating who they are and what services they use the bank for; agents can easily find all the required details before even answering the call.
"3CX Phone System is a reliable, flexible and cost-effective communication solution for the bank. It has all the necessary features for day-to-day operations and brings friendly, easy-to-use environment to our staff. Simple maintenance by our own IT team is another great advantage of the system, and it is complemented by responsive and competent support from the local 3CX Partner," said Evgeny Zascherinsky , Head of IT Infrastructure, Rigensis Bank.
About Velkoms SIA

VELKOMS SIA, is a 3CX Premium Partner from Latvia and is one of the first VoIP promoters in the Baltic States. Started this business 14 years ago, VELKOMS sells and supports turn-key solutions based on best-in-class and carefully selected VoIP products. VELKOMS' customers are companies that build, keep and maintain their own telecommunication infrastructure – telecom operators, Internet and IP Telephony Service providers, System Integrators and enterprises. VELKOMS' services also include project consulting, staff training, commissioning & technical support. VELKOMS is devoted to maintaining high standards of work which guarantees a professional approach, high level of responsibility, extensive expertise in both IT and telephony as well as consideration about individuality of each customer.
* Asterisk® is a Registered Trademark of Sangoma Technologies. This trademark is not affiliated with 3CX, its products, or its websites. Sangoma Technologies is not the source of, and does not sponsor or endorse, the products/services promoted here. 3CX is not associated with or sponsored by Sangoma Technologies. All product and company names are trademarks™ or registered® trademarks of their respective holders. Use of them does not imply any affiliation with or endorsement by them.