Add Live Chat & Talk to your WordPress Website with 3CX
3CX Live Chat & Talk offers free live chat and phone call functionality to website visitors via WebRTC and 3CX.
3CX Live Chat & Talk is different from other live chat plugins – besides offering free live chat functionality for your website – it allows website visitors to talk as well as chat. Connect visitors to your call centre or sales team and watch conversion rates skyrocket! Calls are forwarded to your phone system free of charge using WebRTC technology.
The plugin is completely free but requires 3CX Phone System V16 to be installed. 3CX Phone System is free for unlimited users – you can install it in your office on Linux or Windows or on an Amazon Lightsail or Google Cloud instance for $5 per month.
Built-in Data Security:
Request visitors to optionally provide their name and email to initiate a chat.

Authorization, Anti-Spam and Throttling mechanisms secure communication and limit the number of incoming unreplied chats to 3CX.

GDPR-compliant with no user tracking, no cookies and no personal chat and voice data stored on WordPress.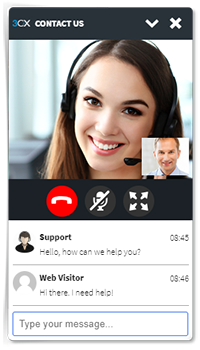 Features
Free live chat for unlimited users, without any monthly subscriptions.

Site visitors can talk to you for free without having to install additional applications, drivers, controls or dial long numbers.

Visitors can communicate via chat and elevate the chat to an audio or video call, free of charge via WebRTC.

Your agents can handle large number of calls on their PCs or mobile devices with the free 3CX Android and iOS apps.

Desktop notifications will inform you when a new live chats or calls occurs.

Configure an offline message mode when no users/agents are online to handle incoming calls and chats.

Easy-to-use and customizable interface enables integration with your web site.
Requirements:
License URI: https://www.gnu.org/licenses/gpl-2.0.html