To troubleshoot or analyze a particular problem, it is often handy to take a closer look at the actual SIP traffic being sent to and from 3CX Phone System or the 3CX client.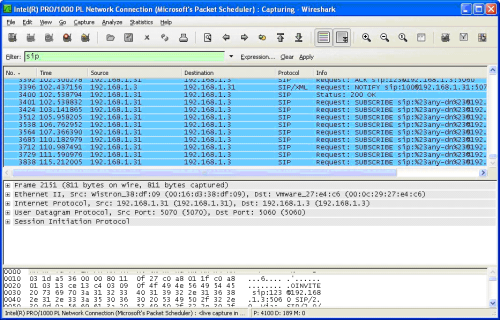 For example:
You can check whether SIP traffic is arriving at the server, and thus verify that traffic is not blocked by a firewall on the client or by a firewall sitting in between the server and the VOIP provider
You can check that STUN requests are being made
You can check the exact format of INVITES and other SIP messages sent by your VOIP provider or VOIP gateway
You can view registrations made by phones
In addition, 3CX Tech support might request that you create a SIP capture so as to analyze an issue in more detail.
To create a SIP capture:
Download and install a Network Capture tool. In this example we use the free Wireshark tool, which can be downloaded from www.wireshark.org
Activate the interfaces from the menu. Go to the menu option Capture > Interface
Now select the network interface on which the traffic is being sent and received (be sure to select the correct one) and click on the start button. Traffic will now be captured.
Make a call or reproduce the particular action that you wish to analyze (for example registration with a VOIP provider, or an outbound call via a VOIP provider)
You will see the SIP traffic appear in the main window. When done, you can stop the capture and then save the capture from the file menu for future analysis.
To create an UNFILTERED Wireshark Capture: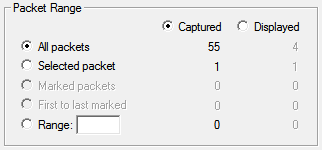 When saving the capture, make sure that in the "Packet Range" section at the bottom of the "Save" dialog, you select the options labelled "Captured" and "All Packets" – this way the Support team can know if any other traffic is interfering with your main SIP traffic, or if, for example, a STUN or DNS or HTTP request failed for some reason.