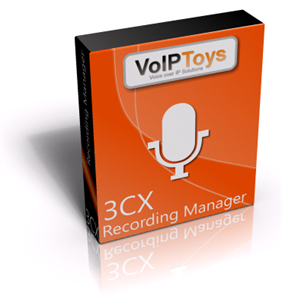 3CX Premium Partner, InfoSys Consulting, has created an application that allows you to manage the phone conversations that are recorded by 3CX Phone System. 3CX Recording Manager makes it easy to find the call recordings made by any extension, filtered by time frame and date.
Large businesses and call centers make hundreds or thousands of calls a day – finding the exact recording you are looking for could prove to be a challenge. 3CX Recording Manager provides a web portal with a searchable database. It has a built-in query manager that makes it easy to build simple or complex queries. You can listen to the recording directly from the portal and save the recording to your computer, or email it to anyone you choose. You can also delete the recording right from the web portal, giving you complete control over your call recordings.
3CX Recording Manager also offers an automated retention policy. The retention policy looks at the age of the recording and, on a scheduled basis, if the recording is older than the specified number of days, can either delete the recording or archive the recordings on an alternate server. Access to the web portal is controlled using your 3CX Phone System extension number (serving as your username) and your PIN number (serving as your password), meaning that there is no need to maintain a separate user login database, allowing you to leverage the existing security features built into 3CX Phone System.
Because 3CX Recording Manager uses a web portal, nothing needs to be installed on your computer. You can access the portal from anywhere using your PC, MAC, or Smartphone. Updates to the application are performed on the server and are immediately available to all users simultaneously.
3CX Recording Manager allows you to:
Easily find, listen, and manage 3CX Recordings
Easily install and update
Use standard browsers such as Internet Explorer, Google Chrome, Firefox and Safari
Access your call recordings from anywhere
Easily delete old recordings that take up lots of space on the server
Administer using the built-in 3CX unified login
Pricing for 3CX Recording Manager starts at $395.00 per server. You can purchase the 3CX Recording Manager at www.VoIPToys.com or by calling 1-877-235-4236.
"3CX Recording Manager" is a product of VoIPToys.com (InfoSys Consulting, Inc.) InfoSys is a 3CX Premium Partner and Software Developer specializing in commercial 3CX add-on utilities and custom software solutions.