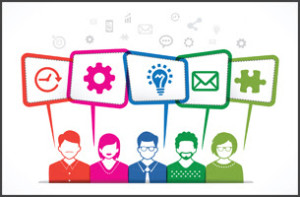 We're really happy to see that a lot of our partners and users are contributing to the 3CX Ideas App, either by posting recommendations or voting for other users' ones! The Ideas App is definitely a great way for us to stay in touch with the 3CX community and listen to what you have to say.
In order to improve this experience, we have decided to move our Ideas App to a PHPBB Forum so that we can actually discuss the recommendations you post, something we couldn't do before now. Also, we noticed that the app had a fraud in its voting mechanism, something which has now been resolved.
Additionally, with this improvement you won't have to login to the app with different credentials! This will make the procedure so much more straightforward for you.
We have processed the top 100 ideas and have split them into four categories: Done, Rejected, In-Progress and Under Consideration. Please see below which ideas made the list.
For the ideas which are "Under Consideration" we are waiting for your feedback. Go ahead and vote for them, if you think they're worthy, and based on your votes we will decide which ones to take forward.
We look forward to receiving your ideas and discussing them with you so start posting!
Done
These features have been done in past releases, or will be done in SP1 of v14
BLF lights should be RED / BUSY when Extension has DND stat – Done in SP1 as DND is now mapped to profile
Automatic callback if extension is busy
3CX client for Windows Phone – Done, not few downloads and feedback!
Export extensions and outbound rules –
Calling into conference early – Now possible to call in early
Outgoing calls using call trigger CMD
Agent statistics unanswered and total
3CXPhone compatible with USB headsets
Update import/export template – Has been extended in v14
Scheduled Conference Call Start Time flexibility
Out of Office Hours via BLF – using dial codes
Ability to change forwarding rules via web
Always permit 911 emergency calls independent of licensing
Call recording indication
Call focus stealing options are back in v12.5
Update BLF field within Phone Provisioning for Yealink T4x
Holiday Calendar
Add Personal Speed Dial Numbers to BLF of your own phone
Support for configuring different languages on each IVR (for Canada for example)
Support for configuring different voice mail language
Queue / Ringtone Distinctive Ring
In progress
These features will be done in future V14 Service packs:
Shared Park – Music on Hold to start where it left off
Wallboard for multiple queues – new switchboard will allow more configuration options to show queue stats
Allow managers to change logged in/out of queue of other users (SP3)
Change label "Self identification" to name
3CX Smartphone clients to support video
Different Ringtone in 3CXPhone for Windows for Internal / External Calls
Do not play 'Please transfer your call" after IVR choice is made
In consideration
These features are being considered and a poll will be posted on our blog soon!
More outbound rules
Ability to pause recording from the client
Voice mail to multiple people
Specify a different operator for every extension group
Schedule series of recurring conference calls
Web interface for Switchboard
Time based conditions for IVR prompts
Answer calls on locked Android phones
Copy settings of an existing extension
Skill Based Routing to set priority of each agent
Log agent out of queue after X missed calls
Rejected
This features have not been done for various reasons. They are not popular enough, architecturally difficult to implement or would render our interface and logic confusing or too complex
Announce Queue position in minutes – not possible
Ring Groups should ignore people set to away, even if forwarding rules are active
Agent stats in 3CXPhone – retrieve from reports
First time voice mail setup for new users
Voice mails for specific holidays
Licence limit prompt should not be played on inbound calls
Random/automatically changing caller ID
Outbound print to fax feature – use t38printer.de
Hunt by 2 in polling strategy – you have hunt by 3
Remove extensions from forwarding rules
When voice mail is disabled all references should be removed
See all legs in Call log Destination column
Show number instead of Makecall – use a supported phone to avoid this
SMS management via an SMS gateway – best use a web based SMS portal
Dial code to login/logout of specific queue
Allow CTI mode to manage multiple lines – use soft phone instead
Add support for multiple break in messages
Additional Custom Alert-info headers for distinctive ringing
Ability to temporarily stop emails
Ring extension when wait in queue exceeds X seconds – use separate queue
Skip voicemail greeting message – direct to leaving message
Display name for system extension
Enable configuration of outbound caller ID in Outbound Rule – Not possible at present
Switch the ability to transfer out of VM
Ring Group Department Mailbox – Just use additional extension
BLF button to monitor queue & status – use presence screen of 3CXPhone
Schedule 'part days' for out of office hours
Distinct ring tone per ring group
Allow queue announcements to interrupt hold music
Emergency Code state shown in Management Console or client