3CX is pleased to announce the integration of the new versa3CX module with 3CX Phone System 12. With the versa3CXClient component, users now can integrate 3CX Phone System 12 with versaSRS allowing the user to see the caller's contact details immediately when a call is received through 3CX Phone System. This significantly enhances the efficiency of help-desk staff to provide effective customer service to their clients since it is now possible to display the caller's details (CRM contacts look up), launch the versaSRS Knowledge Base, generate a new case based on a template, retrieve help articles and supporting documentation, all within seconds.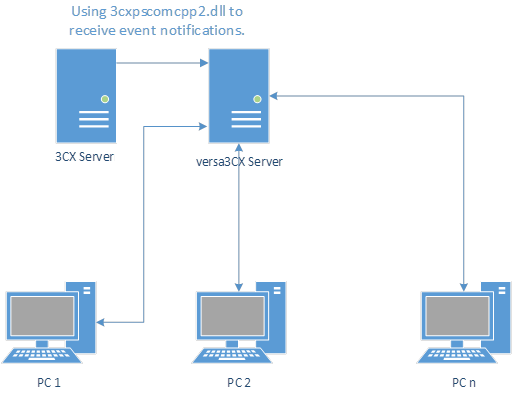 How does versa3CX Work?
The Server Module
The versa3CX integration consists of two modules. The versa3CXServer module is installed on the same server hosting the 3CX Phone System. The versa3CXServer monitors the calls received by the system, and through a configurable port number informs the versa3CXClients listening to that port number, for the calls received, the caller ID, the status of the call (e.g. Ringing, Connected, etc.) and the keys pressed.
Client Module
The versa3CXClient module is installed on each computer used by the help-desk staff to receive phone calls. Typically, this should also be the computer used by a versaSRS user (Help Desk support staff / technician, Sales person). The client is a Microsoft .Net system tray Windows application that communicates with the versa3CXServer service using socket communication. It can be configured with a refresh rate which is normally 500 milliseconds. With this default value, every 500 milliseconds the versa3CXClient sends a message to the versa3CXServer. The versa3CXServer logs the message it receives and then replies back to the versa3CXClient.
When a call is received by the versaSRS user, either by picking up a softphone or desk phone, the versa3CX Client is informed by the versa3CXServer and causes the versaSRS to automatically launch business determined windows to assist the versaSRS user with the call. When the caller selects certain key combinations using 3CXPhone then versaSRS uses this information to retrieve help articles, a case window and supporting documentation. The versa3CXClient component is easily configurable by the user and it also provides information such as the user's phone number, source of the call, the destination and the status of the call. The client can also be hidden on the task bar so it does not interfere with the daily work load unless it is required.