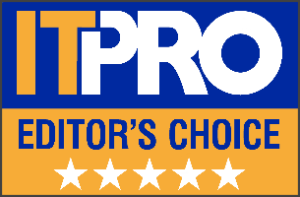 3CX has been given a 5-star editor's choice recognition by the editors at IT Pro. They  reviewed 3CX v15.5 and couldn't have been happier with the ease of deployment and use. They used the PBX Express tool and were up and running in a matter of minutes. We work hard on our UC solutions to ensure our customers don't have to, and to receive the validation of industry experts makes us proud to know we are on the right track.
"SMEs nervous about hosting their own IP PBX will love 3CX's Phone System 15.5 software as it's designed to be extremely friendly." said Dave Mitchell, Contributing Editor for IT Pro.
IT Pro is one of the leading providers of real-world insight and advice for businesses on technology. They sort through the maze of information available in the IT world and give clear guidance to IT decision makers on new trends and products. That is why it is such an honour to have been ranked so highly for 3CX V15.5.
The simplicity, usability and flexibility of the 3CX UC solution is what we strive towards with every update. By removing tedious configuration tasks and instead allowing IT admins to conduct server-side integrations with a few clicks of a mouse means no more manual configuration on every device needing updates. As a tech company, we know how time consuming simple tasks can be and that's what we aim at minimizing for our customers.
Dave Mitchell, Contributing Editor for IT Pro:

"We were extremely impressed with how easy it was to deploy the 3CX Phone System software and the range of communications features on offer. SMEs that want to host their own IP PBX are looking at the best solution money can buy."
Streamlining our customers' workflow is what each update is meant to do and we're thrilled to see that we are making a tangible difference to both the end-user and reseller experience. This recognition is once again proof that 3CX is leading the way in UC innovation!
To read the full review visit IT Pro.