Micros-Fidelio Issue Official Certificate for the 3CX Hotel Module
Micros Fidelio have officially confirmed 3CX Hotel Module compatibility with Micros-Fidelio systems by means of this certificate: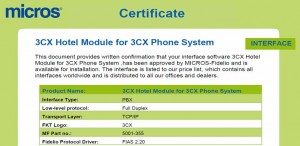 The 3CX Hotel Module can now officially be used with the following Micros-Fidelio Property Management Systems:
Suite8 PMS version 8.6.x onwards
OPERA Suite PMS version 4.0.04.x onwards
OPERA Suite PMS version 5.0.x
Hotels running any of the above systems need to check with their Micros-Fidelio account manager whether their corporate licence includes MF part number 5001-355 (FKT Logo: 3CX) or how to acquire the IFC from Micros-Fidelio in order to integrate with 3CX Phone System with the 3CX Hotel Module for PMS integration. Quoting the MF part number and the FKT Logo will greatly speed up proceedings.
More information about the PBX and hotel functions opened up in 3CX Phone System with the 3CX Hotel Module when using the basic 3CX Hotel Module (3CX part number: 3CXH) as well as the more advanced 3CX Hotel Module with Advanced Features and PMS interfaces (3CX part number: 3CXHPMS), with or without integration with a Hotel System is available in this document, along with best practice recommendations for the correct configuration of 3CX Phone System in a hotel environment.