'We offer the reseller the product for the future' – An interview for TBM Magazine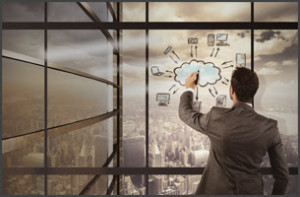 This interview was originally in Dutch. To view the Dutch version please go here.
As a fully software based communications solution, 3CX claims to be the most important partner for ICT and Telecoms Resellers. 3CX integrates seamlessly with other applications, innovates faster and keeps the reseller in the lead because it lets him build his own end to end solution. An interview between Sef Heldens, Editor at TBM Magazine and 3CX CEO and visionary Nick Galea.
3CX brought the PBX to the IT Department of organizations. Ever since the start of the company eight years ago, 3CX is the vendor of a software based PBX. More and more companies move towards IP and software, and away from appliances and hardware. "Because of our strict focus on software and Microsoft Windows, the 3CX PBX is more manageable and offers better integration with other applications", says Nick Galea, founder and CEO of 3CX. "We try to bring innovation into the PBX market by embracing new standards like WebRTC. That makes us faster than the competition."
What's the real differentiator for 3CX?
"Our biggest unique selling point is that every company or organization that works with Windows, is able to manage our PBX on their own, on premise or in a private cloud. That gives our customers full control. Regarding the partner channel: we are one of the few vendors who fully cooperate with business partners on every level and in every segment of the market. And it's the same in our cloud model where we partner with hosting partners, resellers and distributors. In that way the reseller can maintain control in the complete service process. The 3CX-reseller is no commission agent and that's a good thing because that's not a sustainable business model."
What are the plans and ambitions for 2016?
"We did well this year. Yet our ambition for 2016 is to establish an aggressive and massive growth. We are going to achieve that growth by innovating with our software technology: video and web conferencing are going to be integrated on a larger scale into the 3CX product, and the same goes for integration with CRM Software. We offer the real virtual PBX, no multi tenant. This brings opportunities for the reseller because he's not forced to invest when he has plans for a Cloud Telephony proposition based on 3CX; our hosted platform is pay as you go in a licence structure, also for resellers. And for small companies it's almost for free. A huge difference with other Cloud Platforms that need huge investments."
Next to mobility and cloud, what are the other trends that capture the attention of 3CX?
"For starters: I believe that our company has always been very innovative in the playing field of mobility: we were the first with mobile clients on Apple iOS and Android. Our smartphone client really is seamless, like it's a common mobile phonecall. A new trend which we embrace is WebRTC for communication via the internet browser. That trend is going to develop very fast. At this moment 3CX is already able to take calls from internet browsers and that trend is going to continue, combined with video. This means 3CX will also move further invest in this technology."
What would you consider your vision on Communications Technology?
"In my opinion: trends in business communications always develop slower than I originally suspect. So: telephony as we know it – smartphone, desktop phone, soft phone – is something people want to keep on using. Having said that, I strongly believe the business user wants to be able to choose between old and new technology. He is very much aware of all the new possibilities and is ready to use them, but for now he doesn't want to loose his present communication tools. It's flexibility he wants. In three to five years from now video communication is a commodity. The same goes for communication by internet browser."
How will this affect the industry and the partner channel?
"Communication will be much more simple for the end user, but the technology behind it more complex. The possibilities will increase, but the existing ways of communication can not disappear. And all of this has to integrate in a smooth and flexible way. A frustrating example on my part is that there are still customers who think they need a faxing machine. And in five years that'll still be the case. I can't think of any logic reason, but it's the reality. So as an industry we will have to keep on providing these solutions in an integrated way. Another example: people still aren't ready for the mobile only workspace, not by a long shot."
3CX very often is a part of a bigger solution. Is there such thing as a 3CX Ecosystem?
"We must certainly have an ecosystem: with suppliers of SIP-trunks, endpoints, servers, datacenters, additional software, applications. And of course there's our partner channel of 15.000 resellers worldwide. In fact I believe 3CX has one of the biggest ecosystems in the PBX domain."
The partner program was recently adjusted. What are the big changes?
"There now are three levels in partnership. We simply needed more levels because we'd like to give bigger rewards to partners who really are dedicated to the brand. Those are the partners that give better support to the customer. It has always been easy to become a 3CX partner and that will most certainly stay the same: training, online certification and support will remain for free. Reseller companies who will go the extra mile for 3CX, will be placed in the spotlight: they will get more leads and a higher partner status. For Gold and Platinum partners we will also organize webinars and round tables with our management and product management so partners can give their feedback."
Why should a business partner consider adding 3CX to his portfolio?
"Because 3CX owns the leading PBX technology. Additionally, 3CX gives a lot of flexibility to the reseller so he can form his own and unique solution for his customers where he is in control and completely value added. We provide the product for the future of the reseller. With 3CX it's possible to build a reliable business model. With standard Cloud propositions you will be nothing but the next commission agent. As for us: we really give you the opportunity to differentiate, with our product as a part of a much larger puzzle."
What will be the main event for the partner channel in 2016?
"To keep focus. There's no use in having too many brands in your portfolio. It's better to choose and have all the sales, technical and support knowledge of one communications solution. It's a fact that resellers with focus are more successful. And more important: the customer senses it as well."
About TBM: Telecom Business Magazine has an exclusive focus on the Telecom dealer. Technical trends are followed closely and new developments in the industry are scrutinized and assessed on their value. The vision of the most important players in the telecom industry can be followed in TBM. At the editorial level, TBM aims to provide only relevant content to benefit the telecom dealer.
http://www.tbmnet.nl/