When deploying a new VoIP phone system, especially in larger installs, the cost of new IP phones can be substantial. And for many work stations, the current analog phone might do 'just fine'. And with 3CX Assistant, a desktop call control utility for Windows, extension users can enjoy all the benefits of an IP phone including presence and call control, whilst using their analog phone.
Additionally, in environments such as hotels or factory floors, analog phones are connected to the PBX with analog phone wiring, and no Ethernet cabling is available and is prohibitive to install.
In both cases, analog phones can continue to be used without any issues at all with the use of FXS channel banks. An 'FXS channel bank' or 'FXS gateway' is a device that converts digital to analog and allows analog phones to be connected to a VoIP phone system. In essence its multi port ATA adapter.
Of course, the analog phones do not need to be connected to the device directly. It is possible to install one or more FXS gateways/ channel banks where your old PBX is, and just plug the extension phone wires straight into the FXS gateway. The gateway is then connected to the network. Neither the analog phones, nor the VoIP phone system will see any difference at all!
Example deployment: 96 room hotel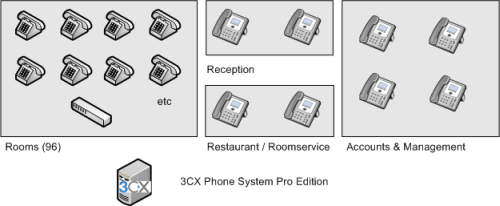 Lets take a hotel as an example. This hotel had 96 rooms and wishes to upgrade its phone system, which lacks many modern features and is expensive to maintain. The hotel staff need to see guest name, and wish to have modern hotel phone system features.
Likewise, management and accounts need the features of a modern phone system to do their work properly. However, since the hotel phone system had been installed a long time back, the phones were wired with analog phones. Besides this practical problem, the hotel does not consider it essential that guests have IP phones: Existing analog phones are deemed good enough! In addition, an existing server is available.
3CX can easily be deployed in this environment and inexpensively too:
| | | |
| --- | --- | --- |
| Description | Cost | Total |
| 4 * Grandstream GXW 4024 FXS gateways | $675 | $2700 |
| 10 * IP phones | $100 | $1000 |
| 1 * E1 Gateway | $1250 | $1250 |
| 1 * 3CX Phone System Pro 24 Edition | $1695 | $1695 |
| 1 * Upgrade insurance | $295 | $295 |
| 1 * Technical support | $260 | $260 |
| Installation cost | $3000 | $3000 |
| Total Cost | | $10200 |
The total cost of this installation is less than $10,000 or 7500 euros. As can be seen from this example, by re-using existing analog phones installing a new VoIP phone system does not need to be expensive!