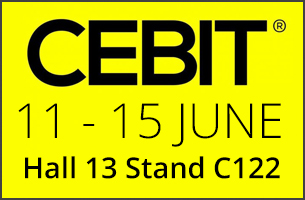 Europe's most exciting business technology event is just a few weeks away and, if you too will be enjoying everything that this year's CeBIT has to offer, why not drop by Hall 13, Booth C122 for a look at what the latest version has to offer, what's in the pipeline, and a chat with the 3CX team!
Once again 3CX will be heading over to Hannover to exhibit amongst hundreds of other vendors, innovators and industry changers for 5 days of business tech excitement! The event will take place from 11th – 15th June at the Hannover Fairground and is set to focus on the digitization of business, government and society through its four sections: d!economy, d!tec, d!talk, and d!campus.
3CX has become a CeBIT regular in recent years; the exhibition has built up a reputation for showcasing the most innovative products on the market today which means it's the perfect fit for our solution!
If you would like to meet with the 3CX team please schedule and appointment via email to avoid disappointment.
See you soon at CeBIT!