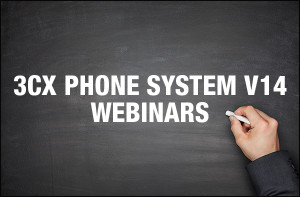 3CX Phone System Version 14 is here and it's packed with new features to help cut costs and increase productivity and mobility!
What better way to learn about the new features, including the new management features and smartphone clients as well as the new Cloud Ready status of 3CX Phone System v14 than attending one of the webinars we have scheduled for you? The webinars will be held by the 3CX Sales Executive for each region!
Topics that will be covered include:
1. SPLA licensing
2. Fault tolerance
3. New reporting engine
4. New iOS, Android and Windows Phone 10 clients
5. Improved management and interface
6. New SIP Trunk Providers
7. 3CX WebMeeting
Visit our 3CX Webinars page, to find out more about the webinars and reserve your place according to your region!