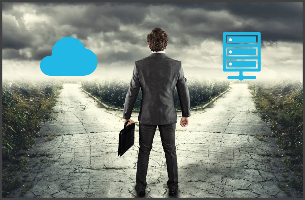 CIOs and IT admins are no doubt faced with some concerns and considerations when planning to replace their outdated, legacy PBX with a new Unified Communications software-based solution. Quite possibly, the biggest choice they will have to make is whether to go hosted or on-premise. In this three-part blog post, we're going to look at clarifying the requirements, advantages and possible disadvantages of the two deployment options.
On-premise PBX Solutions
The term "On-Premise" refers to PBX installations within the local network (LAN). In this case a modern software based PBX such as 3CX, is usually materially installed on a dedicated server machine or appliance, or installed on a virtual machine. Peripheral devices such as phones, gateways, and softphones are normally installed within the same local network and interact directly with the PBX. Traditional phone lines (ISDN, PSTN, GSM) or VoIP lines (SIP Trunks) can be connected, but so can remote extensions physically placed in remote business locations. Internet connectivity allows for outward data traffic.
Main advantages of an On-premise solution:
Direct control of the machine hosting the PBX installation.
Local direct connectivity with the gateway for traditional lines.
Direct access to ERP applications, CRM and Databases that reside within the local network and which are not prepared for the Cloud environment.
In case Internet connectivity is missing, due to technical problems, the PBX continues to operate by exploiting local backup routes (traditional lines).
Voice traffic over the data line is reduced to exchange data with the VoIP provider and any remote extensions only.
In the case of infrastructures with a significant number of extensions, especially where features such as call recording are used, the on-premise solution usually guarantees better efficiency.
Possible critical aspects of an On-premise solution:
Increased traffic on the internet data line to connect to CRM applications and in Cloud databases, or to connect remote extensions (softphone and remote physical phones) and smartworkers.
With some solutions, it is possible that more time will be needed (and consequently, higher costs) for maintenance and updating.
ISP providers as well as routing and Firewall equipment must be chosen and evaluated more carefully.
May encounter possible issues related to the presence of router / firewall equipment supplied by ISPs that do not comply with the specifications of the SIP protocol or may even inhibit the correct communication with VoIP providers.
Read Part 2 for a look at the pros and cons of PBX solutions in the Cloud!