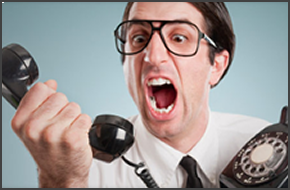 Even though VoIP technology has been around for a while, businesses are now keener to switch their outdated and cumbersome phone systems for robust, UC featured PBX's like 3CX Phone System. An IBISWorld reports that the growth of industry VoIP users is going to increase by 15.3% yearly up until the year 2017 in the US alone. Why the sudden surge of VoIP? Before we can look at the real drivers behind this VoIP boom let's define the key differences between landline (standard PSTN) and VoIP telephony.
A landline telephone is the traditional wired phone that we all grew up with. It connects one phone to the public telephone switch network through physical phone lines otherwise known as PSTN or POTS. It uses the phone jack in your wall to connect to the legacy network and connects to the final destination of your call by hopping along the circuit-switching parts of the networks.
VoIP on the other hand, uses an IP phone or a softphone like 3CXPhone to make calls using IP over the Internet. A VoIP phone converts the sound of your voice into data packets and then sends them to the target destination. VoIP telephony can also be used simultaneously with your landline by leveraging gateways.
So what is all this VoIP fuss about? Well to begin with, by switching from traditional analog phone lines to a VoIP provider, the first thing that you'll notice is a massive drop in your telephony costs. VoIP telephony is much more cheaper than using telco providers (local or national) and many companies have halved their telecommunications costs by simply switching to VoIP. We all know how expensive long distance calls can be, right? With VoIP, long distance calls are almost free of charge. In addition to this, it's very common for a business to require multiple telephone numbers hence increasing monthly bills. Traditional landline costs have been known to burn a hole in your pocket. At home, most people have a mobile phone and seem to only have a landline for their internet connection.
What happens when something goes wrong with your landline connection? We've all heard the horror stories revolving around troubled old landline connections. For instance, some businesses have had to bend over backwards just to get a customer service representative on the line to help them solve the problem they are encountering and in the end the landline company decides to send out a technician, two weeks later.
Another issue many businesses have are the pricing plans and contract bundling that is often associated with a landline. They sign up for what seems like a good deal only later to find hidden fees. Some landline companies even throw in other services such as you don't even want but still have to pay for. With 3CX Phone System, which is an award-winning, feature richVoIP PBX solution offers Unified Communications features as standard. You can see the presence of your colleagues, voicemail, free inter-office calls, setting up conference calls in seconds just to name a few – are all included in the package, with no hidden or additional costs.
Landlines also limit mobility. Even with a cordless phone, if you move too far away from the base, you'll lose the signal. With VoIP, however, many people are using mobile apps such as 3CXPhone for Android and 3CXPhone for iPhone which enables users to communicate as long as there is an internet connection, making communication much simpler.
3CX Phone System also offers functionality that traditional telco companies cannot provide or even if they do it is usually limited and at additional costs, such as queues, ring groups, digital receptionists and conferencing. In fact, with a headset and a softphone like 3CXPhone for Windows, some small businesses don't even need to purchase IP Phones.
Who needs answering machines anymore? With the 3CXPhone clients you can check your voice messages remotely over WiFi or 3G by simply dialing the voicemail extension number followed by your PIN number. 3CX Phone System comes with a complete and feature rich voicemail service enabling users to receive and record voice messages.
Businesses no longer need to spend a lot of money on outdated phone systems that use traditional landlines, when there's a solution like 3CX Phone System out there that can boost productivity and sales and increase customer service!
So, there's really no reason not to make the switch  today. Download 3CX Phone System and start saving now.