If the Media Server needs to allocate a port for media transmission, and cannot bind, it will generate a log message such as:
MediaServerReporting:InitEndPoint [MS003003] C:179.1: RTCP socket 10.0.0.173:7023 binding failed with error code 10048
This is due to some other application already binding to some ports in the 7000-7499 range. This is typically due to the Microsoft DNS . To check which ports are bound at any point in time, you can run the following command from the DOS prompt:
netstat -ano -p UDP
Microsoft Windows allows you to define which port ranges will NOT be returned to any application/service that requests a random port number, via the following registry entry:
HKEY_LOCAL_MACHINE\SYSTEM\CurrentControlSet\Services\Tcpip\Parameters\ReservedPorts
To ensure correct functionality, you should add the following ranges, without removing whatever the value already contains:
5000-5100 – Management Console, FAX Server, SIP Port for 3CX PhoneSystem and Tunnel Ports, Other 3CX Components
7000-7499 – 3CX Media Server (RTP) – LAN audio/video/t38 streams
9000-9099 – 3CX Media Server (RTP) – WAN audio/video/t38 streams
40000-41000 – Conference, IVR, Parking Orbits
Visit our Ports used by 3CX Phone System article for an always up to date list of ports used.
Screenshot for example purposes. Ports in the screenshot are not correct ports: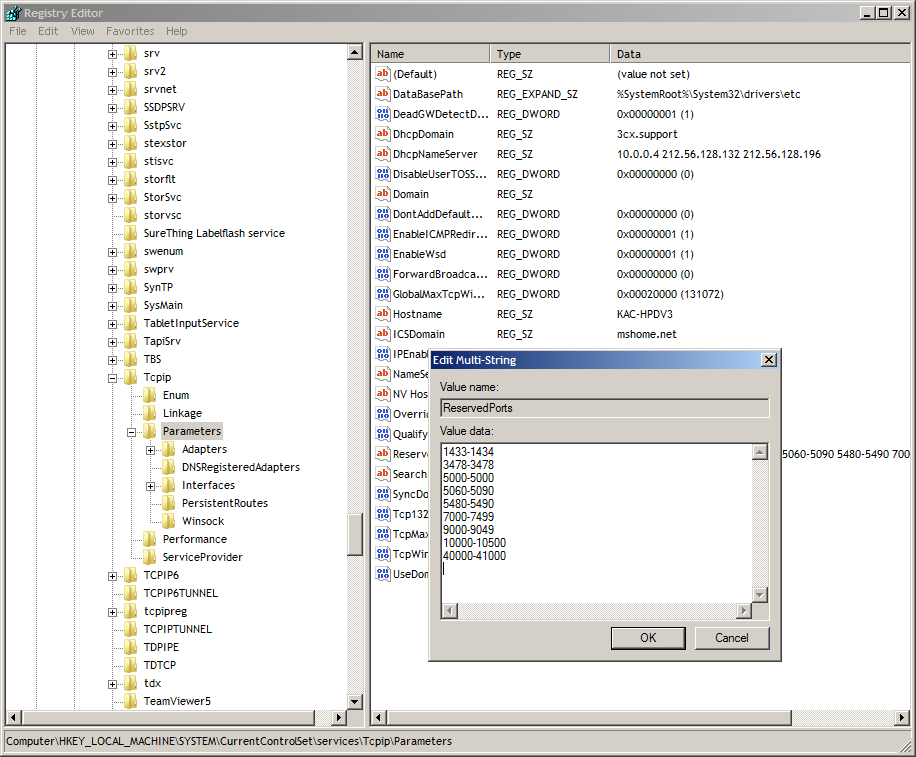 For more specific instructions regarding this registry entry, refer to: http://support.microsoft.com/kb/812873/