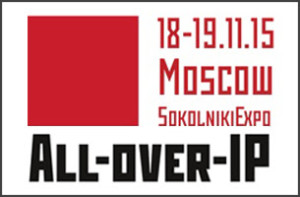 3CX is an exhibitor at this year's All-Over-IP in Moscow, Russia from November 18th – 19th at the Sokolniki Expo.
The All-Over-IP Expo 2015 brings together all advanced and emerging IP-enabled solutions and services that utilize enterprise IT infrastructure, and drive the most powerful global trend: convergence of previously disparate technologies, companies, markets, ecosystems and people.
This expo is a perfect fit for the 3CX Product range. 3CX Phone System can easily be deployed on any company's existing infrastructure as it's software-based and runs on Microsoft Windows. Bearing in mind that the new trend for businesses is to work in the cloud the recent release of 3CX Phone System v14 and 3CX WebMeeting 8 are both up to date with the trends.
Make sure you come by Booth 10-3-3 and visit the 3CX team to see a live demonstration of 3CX Phone System 14 and 3CX WebMeeting.
We look forward to seeing you there!