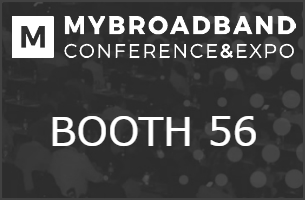 3CX is set to exhibit at another great event this month, this time in South Africa at the MyBroadband Conference and Expo.
The exhibition is the biggest IT event in the country and is attended by IT executives and business professionals from all over South Africa. Entering its 14th year, the conference has grown incredibly and this year's event is sure to be the biggest yet.
The conference is set to take place on October 18th at the Gallagher Convention Center in Johannesburg. Attendees we get the chance to learn all about the latest developments and innovations in telecom and broadband. The conference and expo will showcase over 34 exhibitors, 12 speakers and the opportunity for networking and drinks with the 3,500+ delegates in attendance.
Find 3CX at Booth 56; stop by for a chat with the team and find out all about the latest features and improvements with a live demo! It's a great chance to take a look at the latest update which has introduced the brand new web app which allows users to make calls straight from their browser with no need to download the desktop client.
Please make appointments via email to avoid disappointment! We look forward to seeing you at the conference!