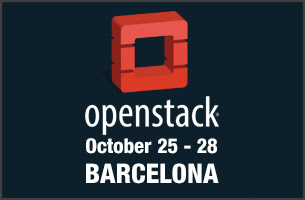 OpenStack aficionados we have exciting news for you! We're exhibiting at this October's OpenStack Summit in Barcelona!
The autumn event will mark 3CX's debut at the biannual gathering of IT professionals and thought leaders from around the world. Experts on telecommunications, the cloud, app development and more will all come together under one roof to discuss the future of cloud computing and share the latest products and developments set to take the IT industry by storm.
The 3CX team will be at the event giving live demonstrations of the PBX and answering your questions on everything from the newly designed management console and softphone clients to CRM integration and security features.
Try Out V15
The release of Version 15 has seen major improvements in PBX management making 3CX a "zero admin" solution. This is a great opportunity for OpenStack attendees to see these developments in action by getting a live demo of the phone system with a 3CX member of staff.
So come and join us for a chat and a look at 3CX v15 at the Centre de Convencions Internacional de Barcelona between October 25th and 28th October at booth B38. Please schedule appointments via email to avoid disappointment.
We look forward to seeing you!