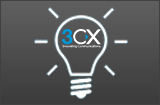 The popular 3CX Feature Requests app has moved! Previously this app was hosted on Facebook, but due to popular demand the app is now hosted on our own 3cx.com server. Now anybody can access it using either their Facebook or Twitter login.  Facebook is no longer a requirement. The 3CX Ideas app allows us to respond to and prioritize Product feedback. You can post feature requests and vote for feature requests. The best ideas will rise to the top and be considered for inclusion in 3CX Phone System.
Make sure your idea hasn't already been submitted – search for it first! Duplicate ideas make it difficult to administer the system.
Do not post feature requests for old versions, only feature requests for current versions will be considered.
To access the Feature Requests page, go to http://www.3cx.com/ideas/