You are the CEO of an international business preparing for a significant virtual meeting that will be conducted via video conferencing with your key stakeholders and investors as you attempt to secure an additional round of funding. The room is filled and all eyes are on you, but when you begin the session, the screen begins to buffer and suddenly goes blank.
In years past, when video conferencing was in its nascent stage and still saddled with technological glitches, this scenario was perhaps all too common. But today, thanks to incredible advancements, business communication methods can improve exponentially with the help of a best-in-class Web conferencing system.
It's hard to believe just how far the technology has advanced in the last 20 years. Video conferencing wasn't always the preferred medium for holding large business meetings with geographically dispersed participants, due to its cost prohibitive nature. The infrastructure itself wasn't mature yet either. For years experts struggled to produce quality software that offered clear picture and audio in real time.
Flash forward to today: our Web conferencing capabilities are what we always hoped they would be. In recent years the video conferencing market has grown to reach $3.2 billion, according to Infonetics Research. Now, with the integration of WebRTC, B2B communication technique will be unmatched.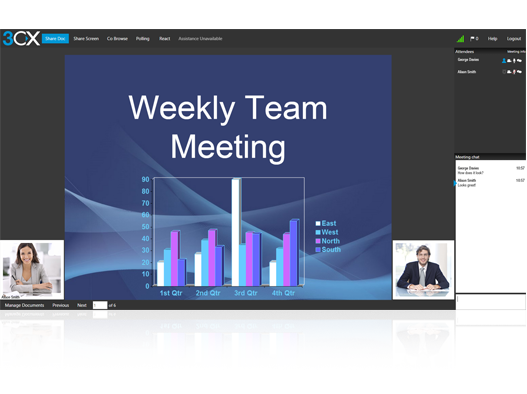 Here are a few reasons why WebRTC is improving Web conferencing today:
Speed: WebRTC-based Web conferencing doesn't require external software or plug-ins. This means you can start your meetings faster straight from your own browser and invite others to join simply by clicking a link.
Sharing: Browser-to-browser communication also allows users to share data files, so in addition to enjoying a rapid start-up, users can send supplemental documents in real time, maximizing time and augmenting the typical conference. But don't worry, it's also completely secure.
Adaptable: This open source technology allows developers to implement ground-breaking changes in Web conferencing as we know it today. Users will be able to take advantage of this technology across varied platforms making it accessible to businesses across the globe.
The business world is heavily reliant on technology in our modern world. If we must put all our faith into an innovation to help us succeed, why not choose the very best one?