LONDON UK, 28 AUGUST 2014 – 3CX, developer of the award winning software based PBX, 3CX Phone System for Windows, today announces the launch of its web conferencing solution, 3CX WebMeeting. 3CX WebMeeting is one of the first multiple participant video conferencing solutions utilising WebRTC. The launch places 3CX as the only IP PBX, unified communications vendor to offer a fully integrated IP PBX and clientless video conferencing solution.
3CX WebMeeting harnesses Google's revolutionary WebRTC technology, which enables video and voice communications to take place through the internet browser, meaning that participants can seamlessly join meetings without the need to download any additional software or plug-ins.
Fully integrated with 3CX Phone System, 3CX WebMeeting is delivered as a hosted add-on, meaning that 3CX customers can utilise the web conferencing feature without installing additional server hardware or requiring additional bandwidth. Whilst meeting set up and configuration takes place locally, the actual meeting is streamed via 3CX's data centres, saving businesses the need for additional bandwidth.
3CX WebMeeting can be used for a wide variety of everyday communication needs, from enriching a standard phone call with video, to visualising a sales pitch with a product presentation. In addition, 3CX customers can host webinars or online training using the Virtual Classroom features. Web conferences can be launched through the 3CXPhone client with a few mouse-clicks enabling easy access to the feature.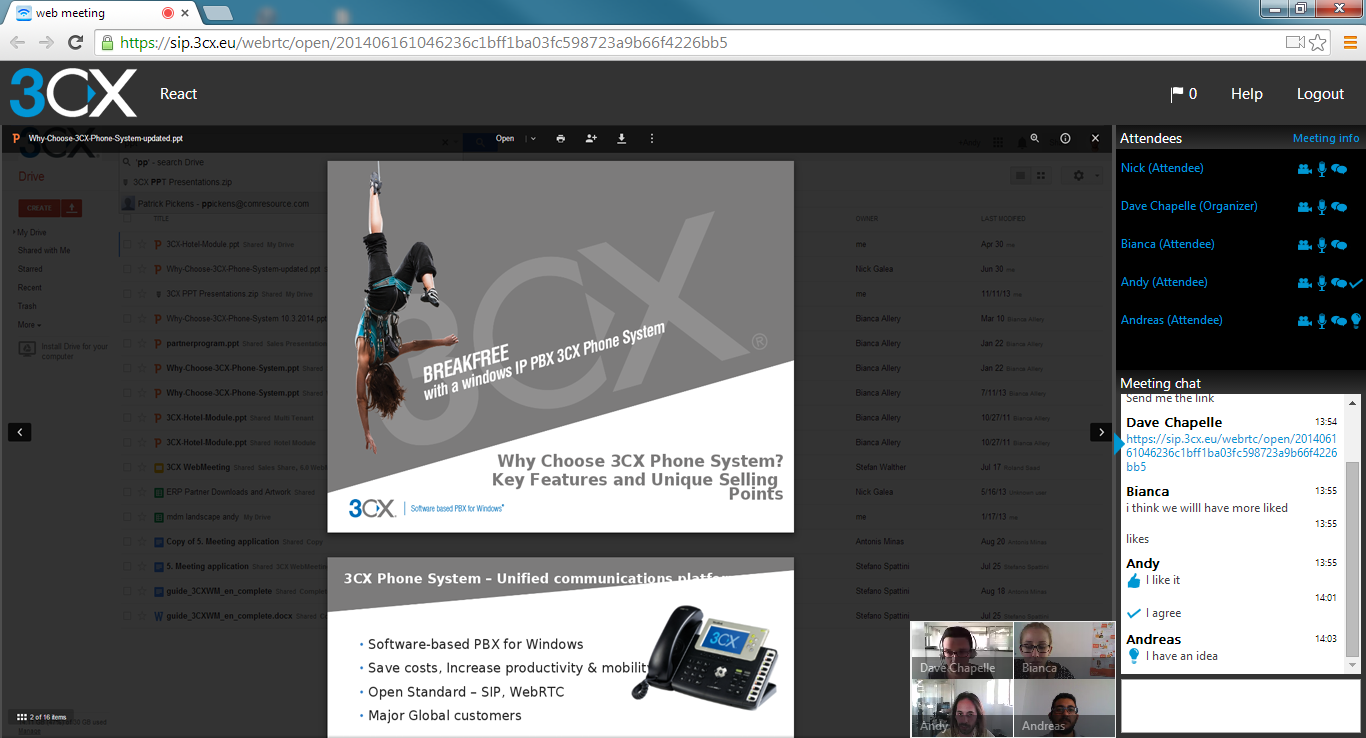 Nick Galea, CEO of 3CX said:
"3CX's innovative use of WebRTC technology and the launch of our clientless and fully integrated web conferencing solution, raises the bar for the IP PBX and Unified Communications industry. This is a game changing moment for the telecoms industry- with 3CX WebMeeting, web conferencing is now within everyone's reach. Moreover, the launch of 3CX WebMeeting places 3CX firmly as the technology leader within the IP PBX market. "
Charles Ambrosecchia, 3CX Partner & CEO of SigmaVoIP said:
"3CX WebMeeting sets 3CX Phone System apart from the competition. Its fully integrated WebRTC technology signals a step change in business communications by enabling unparalleled collaboration and mobility. With 3CX WebMeeting our customers can now enjoy the benefits of face-to-face communication, screen sharing and much more, without the additional time and cost of meeting in person. I can not recommend 3CX Phone System more highly and look forward to expanding our customer base by offering this exciting new feature."
Notes to Editors
For more information on 3CX WebMeeting please visit: https://www.3cx.com/phone-system/web-conferencing/
Pricing:
All 3CX customers have free access to 3CX WebMeeting for 3 participants. For additional participants the pricing per year is as below, with a 30% discount as an introductory offer from July to September 2014.
10 participants – $495/€395  – discounted price until September 2014 is $347/€277
25 participants- $995/€795 – discounted price until September 2014 $697/€557
50 participants – $1750/€1395 – discounted price until September 2014  $1225/€977
100 participants- $2995/€2395 – discounted price until September 2014 $2097/€1677
About 3CX (www.3CX.com)
3CX is the developer of 3CX Phone System which is an open standard unified communications platform for Windows that works with standard SIP phones and replaces any proprietary PBX. 3CX Phone System is more manageable than standard PBX systems and delivers substantial cost savings while increasing productivity. Some of the world's leading companies and organizations use 3CX Phone System, including Boeing, Mitsubishi Motors, Intercontinental Hotels & Resorts, Harley Davidson, City of Vienna and Pepsi. 3CX was named a CRN Emerging Vendor in 2011 and 2012 and has been awarded CRN's 5-Star Partner Program rating in 2013. 3CX has been featured in CRN's Annual Network Connectivity Services Partner Program Guide for 2014. 3CX has also been awarded Windows Server Certification and won the Windowsnetworking.com Gold Award, the Windows IT Pro 2008 Editor's Best Award and a Best Buy Award from Computer Shopper. 3CX has offices in Australia, Cyprus, Germany, Hong Kong, Malta, South Africa, the UK and the U.S. Visit us at: https://www.3cx.com & on Facebook at: www.facebook.com/3CX/, follow us on Twitter @3cx.