After high demand from 3CX administrators worldwide, we have finalized a version of the 3CX Assistant that is specifically designed for Windows Server OS with Terminal service roles enabled. Things to note in the 3CX Assistant TS installation (V8.11138):
The Assistant installation will not prompt you to choose whether to install CRM or the 3CX Phone. These will be installed automatically but will not be enabled. The remote user must enable CRM and 3CX Phone Manually
The 3CX TAPI Service will not be included because TAPI is not multi-profile aware. So the "Call Contact" via 3CX TAPI Service Provider context option in Outlook will not be available. Instead there will be the other context option – "Call Contact via 3CX" which will achieve the same functionality without TAPI.
The user account used to install, uninstall or upgrade the 3CX Assistant must have full Administrator privileges. It is also important that before an installation, upgrade or un-installation, the administrator must make sure that there are no remote users logged in otherwise the server will need to be rebooted
3CX Assistants connected via 3CX Tunnel service protocol are not supported on a terminal services installation.
Microsoft recommends that any applications that are planned to be used in a terminal services environment,  need to be installed AFTER the Windows server is promoted to a Terminal server.
3CX Assistant Updates will not be included and remote users will not be able to check for updates. Updating will be done by the Administrator and through a installation package.
Step 1: First time login for users – Simple connection via 3CX Assistant
The remote user needs to log in to the assistant for the first time to create the connection profile.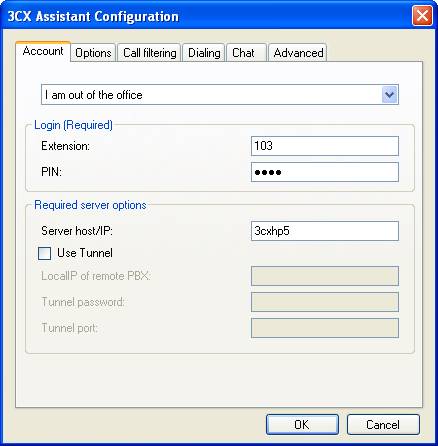 Step 2: Enable CRM Integration
After a successful first time connection, CRM can now be enabled. Click on the options tab and check the checkbox "Enable CRM Integration" and press the OK button.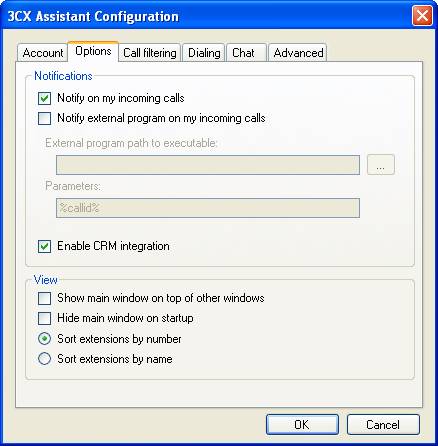 Step 3: Registering the Outlook Plug-in
After the OK button is pressed, the CRM Wizard will automatically pop-up. This will register the plug-in addon in Outlook.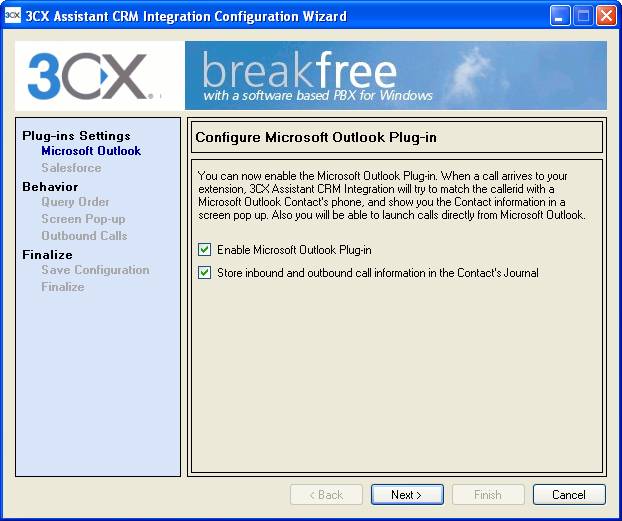 Go through the wizard configuration screens which will enable the user to configure CRM options and after the wizard is complete, the outlook plug-in will be enabled.
Step 4: Launch Outlook
Outlook can be launched on the user's profile and you should receive a balloon tip notification that plug-ins are working correctly.
Step 5: Configuring Outlook Contact Folders
Go to the 3CX Assistant, click on File / CRM Settings and navigate to the CRM Plug-ins tab. Click on the Refresh button to query outlook for any contact folders.  Press OK to save the changes.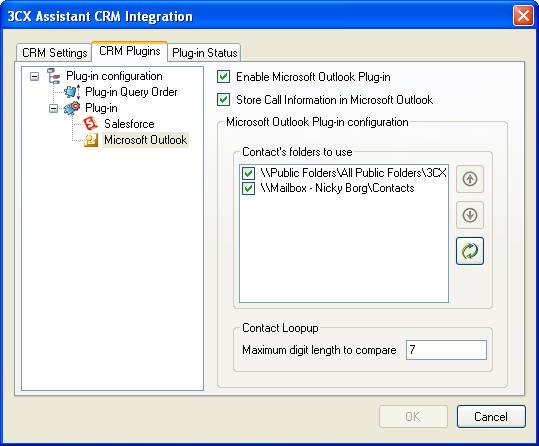 The 3CX Assistant is now configured to work with CRM on a Terminal Services Environment.