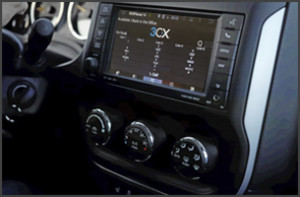 Wouldn't it be great to connect to your office phone system from your car radio?
Who hasn't struggled with a hands-free device in their car, trying to stay connected with the office via a cellphone?
Nothing is more frustrating as you try to understand what the other person is talking about, but the connection drop off under bridges, or when you can't share the document your colleague is referring to.
But 3CX Phone System has now changed all that. The 3CX client can be installed on the full version of Android (KitKat) running on a car radio, bringing a full suite of Unified Communication capabilities to the driver's seat. 
With the client installed, that big screen on your Android radio can show your colleagues in conference, or a collaborative whiteboard, or a PDF document you wish to discuss. You might want to see if a colleague is available, using presence, or just get some information from a worker who is online, but at home.
You could even take telephone calls to your office phone using your single, portable extension that is part of the 3CX Unified Communications package.
You will need an Internet connection to make it happen, however. Some Android car stereos have a WLAN antenna, so they can connect to anywhere Wifi is available. Or You can use your cellphone as a hotspot, or any other mobile Internet source.
So why not stay connected, even when travelling in your car, thanks to 3CX Phone System's ubiquitous Unified Communications?