Should you discover that the 3CXPhone for 3CX Phone System for iPhone closes unexpectedly when you are trying to dial a number, this means that upon the first ever startup of the application, you denied the client access to your contact list.
This notice is can be also seen in the Apple Appstore in the Important Notes section:
"You must allow the application to access your contacts from the privacy settings or at the first time startup"
3CXPhone for 3CX Phone System needs access to the address book during incoming and outgoing calls, to identify the name/contact from the address book.
How to Fix this Issue:
Go to your iPhone Settings
Go to the Privacy setting
Tap Contacts

Set the switch to ON for 3CXPhone 3 to allow access to your contacts list.
*this fix applies to Version 3.0.41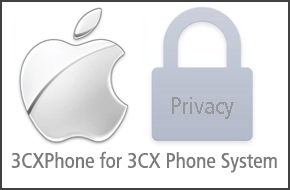 3CX Takes Your Privacy Seriously
We do not create a local copy of the address book and store it with the application.
We do not send a copy of the address book to our data centers or give it out to any 3rd parties.
3CXPhone for 3CX Phone System only opens the address book in "read only" mode.