In rare cases updating of the 3CX MyPhone Silverlight application might not succeed. This mainly happens if you have old beta versions of 3CX MyPhone that did not uninstall correctly. This would manifest itself with a time out when logging in, or the update simply failing. In these cases you can delete the cache from the browser and to remove traces of the old 3CX MyPhone Silverlight application. To do this:
To clear browser cache in Internet Explorer
Go to Tools / Internet options / General
In the Browsing history section, click on the 'Delete' button.
The Delete dialog will appear. Delete Temporary Internet Files, Form Data and the Cookies
To clear browser cache in Firefox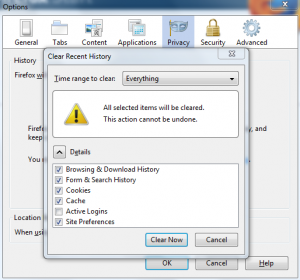 Go to Tools / Options / Privacy
Click on 'Clear your recent history'
In the dialog select 'Cookies', 'Cache' and 'Site Preferences'
Select 'Clear now'
To clear cache in a "locally" installed 3CX MyPhone (Silverlight application)
If you have installed 3CX MyPhone locally or installed the 3CX MyPhone Desktop components (In which case it runs the Silverlight application in a separate browser instance), you have to clear the cache from 3CX MyPhone itself. To do this:
Start up 3CX MyPhone
Right click anywhere inside the application and click 'Silverlight'
Click on the "Application Storage" Tab
Click 'Delete all' and confirm.