When loading 3CX MyPhone, you might encounter the following error:
A critical error occurred and the settings could not be load for the current extension
A screen shot of the error is shown below.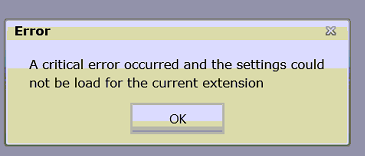 Solution
This problem is caused when you have Microsoft Visual Studio installed on the same machine running 3CX Phone System. Perform one of the following to solve the problem:
Un-install Visual Studio if it's not required. It's not recommended to have Visual Studio installed on the same machine that is running the PBX.
If you need Visual Studio, upgrade the WCF RIA Services to SP2 (https://www.microsoft.com/en-us/download/details.aspx?id=28357). This problem is known to occur when WCF RIA Services SP1 is installed.