This guide describes the different caller ID formats and how to alter /rewrite the caller ID before it gets sent to the Telecoms provider when using beroFix VoIP Gateway cards.
In this document we will use a German number (National code +49) from Dusseldorf (area code 0211) as an example how to format the caller ID:
A telephone line-number (TelN) 12345600 (where "00" are the optional DIDs).
A DID to send as Caller ID: 12345699.
Full number therefore is: 0049 211 123456 99.
Where 0049 is the NC (Nation Code), 211 is the  AC (Area Code), 123456 is the TelN and 99 is the DID.
There are four modes of formatting the Outbound caller ID:
Normal mode – Normal mode is the most common format for the outbound caller ID. In this mode, the whole telephone number is sent (Anschlussnummer). In this example "12345600" the telco provider will then take that number and reformat it as necessary.
Subscriber mode – Subscriber mode is used when you request the feature "Clip no Screening" from the telco provider. This allows you to specify any number that you wish as the caller ID. This is handy for call forwarding rules in which you wish to maintain the "original" caller ID of the calling party.
National mode – This is an older format of Caller ID which is used by some ISDN lines. Enquire with your telco provider or just test it.
International mode – In very rare scenarios, you might need to pass the telco the number in the international format with the country code but without the leading "0" of the area code.
Which one to choose will depend on your telco provider / Exchange point ( "Amtstelle" in Germany). After you have determined which mode you need to use, you can proceed to configure 3CX and the Berofix card accordingly.
Step 1 – Set the caller ID format in the Beronet Berofix web interface

In the first step, you must login to the Berofix web interface and set the correct caller ID format. To do this: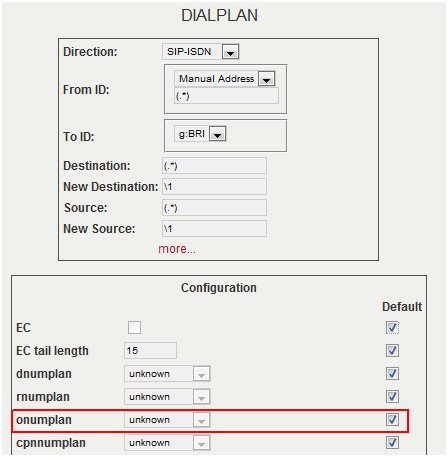 Open the beroFix web interface.
Click on the dial plan tab to open the DIAL PLAN menu and then open the SiP / ISDN entry.
Now set the value for "onumplan" to:

"unknown" if in normal mode. This is the default value for the beroFix.
"Subscriber" for the subscriber format.
"National" for the national format.
"International" for the international format.

Save the changes.
Step 2 – Changes required in the 3CX Phone System Management Console
In this step you need to configure the outbound caller ID of the extension to match the chosen outbound caller ID format:
Go to the 3CX Management Console, edit the extension and click on the "Other" tab.
Now you must enter Outbound Caller ID field based on the mode you have chosen.

Normal mode – Enter the DID Number directly WITHOUT the area code, in this example 12345699.
Subscriber mode – Enter the number WITH the area code.  In this example you need to enter 021112345699.
National mode – Enter the number WITH the area code but WITHOUT the leading '0' of the area code, in this example 21112345699.
International mode – Enter the number without the leading 00 of the country code and without the leading '0' of the area code, i.e. 49211123456.

Now repeat this for each extension with its own DID

Entering the Outbound caller ID in Normal format

Entering the Outbound caller ID in Subscriber format

Entering the Outbound caller ID in national format