3CX Phone System includes a fax service to receive faxes as PDF files, providing you use a supported VoIP Gateway or SIP trunk that supports the T38 fax protocol. However outbound fax functionality is not included.
We still get requests for outbound fax but implementing a fax server for the occasional fax really does not make sense. If you still send faxes from your PC, we recommend using an online fax service. There are several available which work remarkably well, are very reasonably priced and thus more cost effective than implementing a fax server.
Sending a fax from a fax printer driver or email client
An online fax service works in much the same way as an old style fax server does, allowing faxes to be sent from any Windows application via a fax printer driver or from any email client by sending the fax to  "<fax-number>@faxserviceurl.com".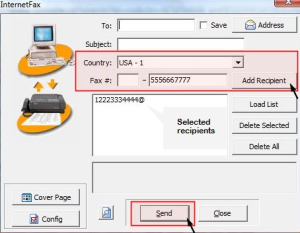 Sending a fax via the fax printer driver (DuoFax)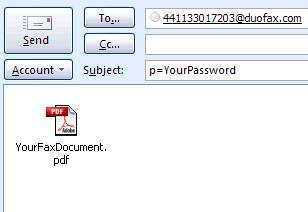 Sending a fax from an email client
Receiving faxes
Optionally these fax services will allow you to buy a fax DID and also receive faxes via email. This works identically to the 3CX fax service. Using the receive fax capability of these fax services makes sense if your SIP trunk provider does not provide T38 fax. In addition, the cost of a fax number at some fax services is much cheaper than an actual DID!
Available online fax services
We compared a number of online fax services and found DuoFax to work well and be competitively priced. There is no monthly fee, unlimited users, and the cost per page is between 3 cents and 5 cents per page. Importantly, it allows you to give all users in your domain the ability to send faxes, directly from their PC, without having to pay additional fees. However, there are many other options available. HelloFax – for example, charges a $10 monthly fee, includes 5 users and 300 pages per month, though inbound pages are counted as well. Whichever service you choose, it's clearly time to say goodbye to your old fax server!