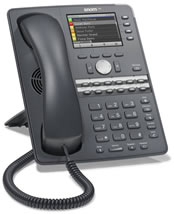 The release of the snom phones firmware version 8.7 may cause the following errors:
Outbound calls are dropped with the following error, "Unsupported Media Type" on the phone's display.
Incoming calls are dropped when answered.
In order to address this issue, you will need to:
Upgrade to 3CX Phone System version 11 SP2 or above.
Log on to the 3CX Phone System Management Console and go to "Extensions" > Select the extension whose firmware has been updated and click "Edit Extension". Change to the "Phone Provisioning" tab.
Make a change in the codec priority list. For example, if the first codec is G711u, change it to G711a and press "Apply". Revert the change back so that the first codec is "G711u". This is required to update the phones provisioning files with the information from the new template.
Click on the "Phones" node and select the extension from the list, then press the "Re-Provision" button from the toolbar. The phone will reboot and re-provision with the new updated template.
After the phone is registered, test it by making and receiving a call.
Users that are using a custom template to provision their phones need to make a text difference with the new template (which is now old and does not contain the latest updates) with the new template included in 3CX Phone System version 11 SP2. You'll need to put your custom changes into the new template and regenerate a new custom template.