If you downloaded the 3CX ISO in 2017, then your operating system is probably on Debian 8. To move up to the next update or version you will have to upgrade to Debian 9.
Update 6 includes a script to automatically take you to Debian 9. There is no need to login to SSH or enter any commands in the Linux Shell. We recommend you plan for this upgrade out of office hours and if you have it on a VM, take a snapshot.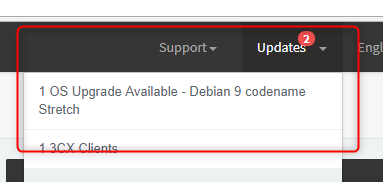 IMPORTANT
As a precaution – take a full backup of your system and store it in a separate location (not on the host). If you are running 3CX as a VM, take a snapshot.
This upgrade is designed for installs made with the 3CX ISO. If you installed Debian 8 manually then upgrade it manually.
If you installed other software, such as a VPN, perform the upgrade manually. Upgrade info can be found here.
The upgrade will take approximately 20 minutes. The PBX will not be working during the upgrade.
To upgrade to Debian 9:
Check that you are indeed on Debian 8. Debian 8 users will see a new OS Update Available. If you don't see it, you are not on Debian 8.
Click on the update, the upgrade screen will be shown. Read the disclaimer and click "Upgrade" to start the process. The upgrade will:

Uninstall 3CX (though the database, voicemails etc will be retained).
Upgrade the OS to Debian 9.
Install the latest updates of Debian (so you are fully up to date).
Install latest version of 3CX and restore the data.

Once complete and the system is back up, the administrator will receive an email.