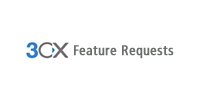 We are pleased to announce the launch of the new 3CX Feature Requests Facebook app. The app makes it easier to vote, share, discuss and like feature request posts, with the best ideas rising to the top.
With the launch of the new app, creating and voting on ideascale has been disabled – the most popular ideas from the ideascale page will be ported over to the new app.
Be sure to "Like" the 3CX Facebook Page. If you have any ideas that you think should be included in 3CX Phone System and other 3CX products, post them on the app and share your post with your colleagues and friends.
The 3CX Feature Requests app is currently in beta. Please report any issues via email to jm@3cx.com.