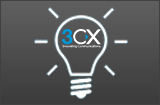 Our popular feature requests app, 3CX Ideas, which many of our 3CX Partners and users use to request additional features for 3CX Phone System now has the Linkedin login ability as well as Facebook and Twitter.
Now you can login to 3CX Ideas using either your Facebook, Twitter or Linkedin login details, making it even more accessible than before. The 3CX Ideas app allows us to respond to and prioritize product feedback. You can post feature requests and vote for feature requests.
The best ideas will rise to the top and be considered for inclusion in 3CX Phone System.
Make sure your idea hasn't already been submitted – search for it first! Duplicate ideas make it difficult to administer the system.
Do not post feature requests for old versions, only feature requests for current versions will be considered.