3CXPhone has been rated as having one of the top five user interfaces in the softphone market by Software Advice. Through a combination of good design and innovation, 3CX has created a software-based phone system which is both user friendly and provides the necessary phone features to meet a company's communication needs.
3CXPhone's competitive edge is it's well-designed user interface which allows users to easily access all the phone functions. The streamlined interface focuses on the keypad, with the icons for the most popular features, such as conference calls and call history, located underneath, making 3CXPhone simple to use phone system which is both user friendly and provides the necessary phone features to meet a company's communication needs.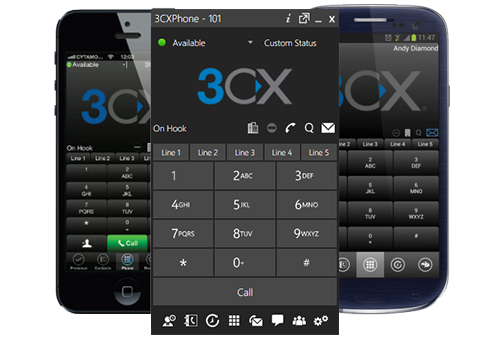 Moreover, 3CXPhone's interface has been purposefully designed to guide the user quickly through the phone features, thereby offering an excellent user experience. For instance, through a number of simple steps a conference call can be set up, and additional callers can be added whilst on the phone with a few clicks of the mouse. 3CX's intuitive interface enables easy communication, so that even the less tech savvy user can understand and make use of its features.
3CX has thought of all its users by ensuring that 3CXPhone can run on both desktop and mobile platforms, including: Windows, Mac OS, Android and iPhone, making the IP PBX a great choice for any business. Unlike other softphones in the market, 3CX Phone System, can also be used as an office phone system as it is compatible with most popular IP hardware phones, such as snom, Yealink, Cisco and Polycom.
Craig Borowski, Telecoms Analyst, Software Advice, said:
"When we set out to find the best softphone UIs, 3CX was already on our radar. It's designed very well, from both a UI and a UX point of view. 3CX designers were able to include all the functionality business users need in a softphone, such as extension management and presence information, without cluttering the interface. That's no small feat. We in the industry spend most of our time talking about features and underlying technology, and it's easy to overlook simple usability. 3CX softphones have more features than many other softphones, and they're presented in an uncluttered and intuitive interface that enhances usability. It was an easy choice for our list."
Nick Galea, CEO of 3CX, said:
"It is great to see that 3CX has been recognised for its efforts in ensuring that 3CXPhone is as user friendly as possible. We want our customers to get the most from our phone features and having an easily navigable interface is vital for this. In addition, 3CXPhone interface runs at a consistently high standard over a number of mobile and desktop platforms, so that all business can rely on 3CX for an excellent user experience."
About Software Advice (www.softwareadvice.com)
Software Advice helps buyers choose the right software. As a trusted resource, Software Advice website offers detailed reviews, comparisons and research to assist organizations in finding products that best fit their current and future needs.