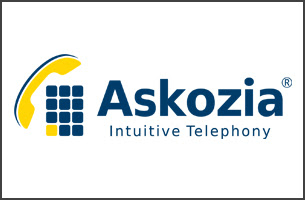 3CX acquires Askozia's skills, Linux technology and user base to increase German market presence
LONDON, UK, HANOVER, GERMANY, 03 AUGUST 2017 – 3CX, developer of next-generation software-based Unified Communications solution, announces the acquisition of Askozia, German provider of the Asterisk®* based IP telephone system AskoziaPBX. With more than 10.000 SMEs using Askozia this acquisition fits perfectly within 3CX's global expansion strategy.
Founded in 2013, Askozia evolved from a student project into an established organisation with impressive Linux technology. Impressed by the technical skills and outstanding work of the Askozia team, 3CX has found an excellent opportunity to expand its market position in Germany but also integrate Askozia's Linux technology into its own product.
Askozia customers and partners are ensured continuity and support through this transition. All Askozia customers will be offered a free 3CX licence and Askozia partners will be onboarded as 3CX Partners.
With the takeover of the Askozia team and their current premises, 3CX will also expand its presence in Hanover. Situated in the heart of Germany, being home of CeBIT as well as domicile of many market leading companies, Hanover is an excellent choice for 3CX to have its finger on the pulse of the German market.
Nick Galea, CEO of 3CX, says:
This acquisition sets another milestone for 3CX Germany. Askozia has a skilled team of handpicked individuals and along with the Linux technology that will now be integrated into our own product we expect rapid growth within the German market.

Sebastian Kaiser, CEO of Askozia, adds:
In 3CX we have found an ideal partner to build on our success story. This acquisition enables us to contribute to the expansion of a big market player that is highly renowned for its pioneership in developing software-based communications technology. We are very excited to be part of this great venture of shaping the future of VoIP telephony in the German market.
About Askozia (http://askozia.com)
Askozia has its roots in a research project at the Ostfalia University which was launched in 2010 as an open source project, resulting in 100,000 downloads, Askozia was officially founded as a company in 2013 and has made a strong market impact since with its firmware concept for an automated Linux-PBX solution.
* Asterisk® is a Registered Trademark of Sangoma Technologies. This trademark is not affiliated with 3CX, its products, or its websites. Sangoma Technologies is not the source of, and does not sponsor or endorse, the products/services promoted here. 3CX is not associated with or sponsored by Sangoma Technologies. All product and company names are trademarks™ or registered® trademarks of their respective holders. Use of them does not imply any affiliation with or endorsement by them.