Castelnou Aparthotel uses VoIP Hotel PBX, 3CX Phone System and the 3CX Hotel Module to lower its hotel phone bills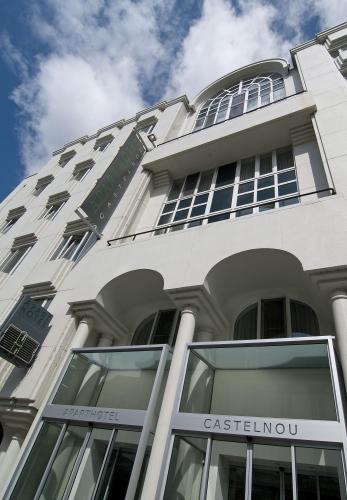 London, UK, and Ghent, Belgium, December 9th 2011 – 3CX, developer of the award-winning Windows VoIP PBX 3CX Phone System, has today announced that 3CX Phone System with the 3CX Hotel Module has been implemented in the Castelnou Aparthotel, saving the hotel 75% of their phone bill by leveraging VoIP.
The Castelnou Aparthotel and their Gent-Zuid and Astrid Park Business Flats in Belgium, combines daily hotel services with the provision of the guest's own fully furnished stylish apartment. Being located in the heart of Ghent, the aparthotel welcomes in many tourists and businessmen.
Castelnou had been using an outdated and limited Nortel PBX that came with expensive line lease payments and costly maintenance contracts. Also, Avaya announced that they would be dropping their support for Nortel, which prompted the hotel to actively find a new, modern phone system replacement. Castelnou needed a high-value, low-cost phone system that would provide rich VoIP features and would be easy to scale, as well as providing Hotel Property Management System integration.
3CX Phone System along with the 3CX Hotel Module was selected as it provides all the features and functionality required whilst being competitively priced. Castelnou can now automatically trigger certain events upon check-in and check-out. For example, on check-out, guests' voicemails are deleted and the extension is blocked to avoid unauthorized use.
"3CX Phone System was a breath of fresh air – not only was it competitively priced but installation was a breeze! The flexibility for easy, low cost future expansion and the feeling of being free from expensive maintenance contracts and no longer being tied in to a particular vendor is second to none." – Luc Daneels, Managing Director of Castelnou Aparthotel.
Within 2 years, the money saved on maintaining the Nortel PBX, as well as leasing the phone lines will pay for all the new IP phones. A lot of hotels reuse their analog phones using gateways, but Castelnou installed new IP phones as they add SIP features such as displaying the guests name on the phone, messaging via the screen, phone book provisioning and being able to setup multiple extensions to one handset easily.
"By leveraging SIP via 3CX Phone System, Castelnou Aparthotel has not only made enormous savings, but is now turning over a profit on their hotel room phones. Their guest telephony service is once again a booming profit center. Guests now make international calls via their hotel room phones at local costs, even beating their mobile phone roaming fees!" – Chris Martin, 3CX Hotel Module Project Manager.
Read the full Castelnou case study on why 3CX Phone System was selected, its' installation and configuration and the benefits Castelnou Aparthotel now enjoys.
About 3CX
3CX is the developer of 3CX Phone System – an open standard unified communications platform for Windows that works with standard SIP phones and replaces a proprietary PBX. 3CX is more manageable and can deliver substantial cost savings besides increasing productivity. Leading companies worldwide such as Formula One's Team Lotus, Boeing, Ohio State University, MIT and RE/MAX use 3CX Phone System. 3CX has been listed as a CRN 2011 Emerging Vendor and has earned Windows Server Certification as well as other numerous awards, including The Windowsnetworking.com Gold Award, the Windows IT Pro magazine 2008 Editor's Best Award and a Best Buy Award by Computer Shopper Magazine. 3CX has offices in the UK, USA, Germany, Cyprus, Malta, Australia, South Africa and Hong Kong. For more information, visit: https://www.3cx.com and find us on Facebook at http://www.facebook.com/3CX/.
About Castelnou Aparthotel
Aparthotel Castelnou uniquely combines hotel services with the provision of your own stylish apartment. Castelnou offers you an air-conditioned flat consisting of an en-suite bedroom, a functional kitchenette, and a dining/sitting area, and combines it with extensive hotel services: a delicious breakfast; lunch, dinner or just a coffee in our Dali restaurant; a refreshing beer at the bar; or a relaxing moment in the lounge.
The Aparthotel is centrally located and forms a perfect base to explore Ghent up close with all its cultural treasures, allowing you to discover what makes this city so special. Ghent is also the ideal starting point to explore other Flemish cities of Art: Bruges, Antwerp and Brussels all can be reached in less than half an hour.
Our guests, whether from the business sector or the academic world, appreciate the proximity and easy accessibility of the harbour, the university and the motorways. Aparthotel Castelnou is the ideal base for anyone who is staying in Ghent for a short or longer while. For more information, visit http://castelnou.be