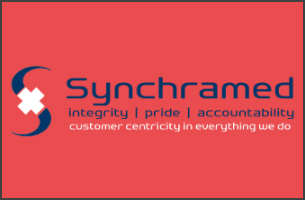 LONDON, UK, 12 MAY 2017 – 3CX, developer of the next-generation software-based Unified Communications system, announces that South African company, Synchramed, has successfully deployed its IP PBX solution at their Johannesburg headquarters. Synchramed, established in 2002, specializes in administration, billing and debt collection solutions for medical practitioners. The company provides high quality software and collection services and was seeking a phone system that could match their level of innovation and one that would also give a much needed boost to their call center.
Synchramed's IT Operations Manager decided it was time to implement a more modern solution as it became clear that their legacy phone system was failing to meet their needs and was incompatible with other software and technology. Another reason for the switch was the advanced reporting features of 3CX that the company needed for better analysis of their call center activity.
3CX has given us much needed insight into our call center statistics. It's a necessary tool to help manage our workload and workflows – Mozel van Niekerk, IT Operations Manager, Synchramed
3CX partner Platinum I.C.T. installed Synchramed's new PBX in a matter of hours without incurring any downtime. Additionally, employees were able to learn the ropes straight away with no training required. They are now enjoying lower costs and a higher level of productivity.
To find out more about Synchramed's experience with 3CX, read the complete case study.
About 3CX (www.3cx.com)
3CX is a 100% channel company and is the developer of a software-based and open standards IP PBX which innovates communications and replaces proprietary PBXs. 3CX cuts telco costs and boosts company productivity and mobility.
With integrated WebRTC web conferencing, softphones for Mac and Windows and smartphone clients for Android, iOS and Windows phones, 3CX offers companies a complete Unified Communications package out of the box.
250,000 customers worldwide use 3CX including Boeing, McDonalds, Hugo Boss, Ramada Plaza Antwerp, Harley Davidson, Wilson Sporting Goods and Pepsi. Maintaining its global presence, 3CX has offices in the U.S., U.K., Germany, South Africa, Russia and Australia. Visit 3CX on Facebook, Twitter and on Google+.
About Platinum I.C.T. (www.platinumict.co.za)
Our motto at Platinum I.C.T. can be characterised in a few simple words: integrity, honesty, professionalism and service delivery. We have partnered and aligned ourselves with a multitude of organisations ensuring that the solutions are tailor-made. Platinum I.C.T. goes beyond merely selling products, we are a true solutions provider that will go the extra mile. We believe communication starts with attentive listening to our clients business needs and requirements, thus providing tailor-made solutions to suit YOUR needs.