Following the success of the announcement of 3CX Phone System 12 support for Cisco 7940 and 7960, we have now added added support for Cisco 7941 and 7961 phone models.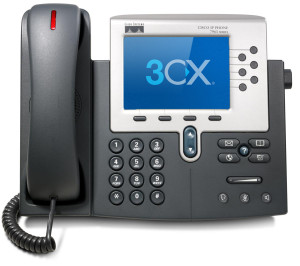 No Need to Replace Cisco Handsets with 3CX
Cisco phones are a common sight in many offices worldwide. Having invested in this hardware, companies are keen to retain their Cisco handsets, but have become increasingly fed-up with the high cost and difficulties of managing Cisco Call Manager. 3CX Phone System 12 can now offer a great solution for these businesses, as 3CX runs on a company's existing Cisco 7941 and 7961 phones, whilst providing all the benefits of a software-based IP PBX.
Immediate Cost Savings & Long Term Efficiencies with 3CX
Switching to 3CX offers immediate cost savings and long term efficiencies. A new 3CX Phone System is cheaper in most cases than renewing the Cisco Call Manager licence. As 3CX Phone System is easier to manage and maintain, companies can also eliminate the need for costly external technical support. By providing a whole host of Unified Communications' features, businesses will not only experience direct cost savings by switching to 3CX, but they will also benefit from increased productivity and mobility.
Smooth Transition to 3CX Phone System
By continuing to use their existing Cisco 7941 and 7961 phones, companies can save greatly on the purchase of new IP Phones. Preparing for the transition to 3CX is a straightforward and cost effective process due to the auto provisioning and 'plug and play' ability of 3CX Phone System. Moreover, there is no need for extra training as employees are already familiar with their Cisco handsets.
Expand your System with any IP Phone
With 3CX, businesses can expand their phone system with any popular IP Phone. Companies can mix and match with more modern and cost effective IP Phones, such as those from snom or Yealink, whilst retaining their old Cisco handsets. One of the key advantages of 3CX Phone System is that it is easily scalable, meaning that additional extensions can be added at no extra cost. 3CX offers a flexible Unified Communications solution which can be easily adopted by any size of business.
Simple transition to 3CX
Switching to 3CX is simple:
Deploy 3CX Phone System for Windows by downloading 3CX.

Configure & Provision your phones for 3CX as described in this detailed configuration guide.